34 in 34: Toledo Cherokee
August 29, 2015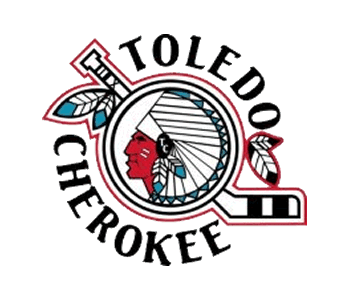 The 34 in 34 series will feature an in-depth look into all 34 teams in the NA3HL for the 2015-16 season, with a new team being highlighted daily, leading all the way up until the start of the regular season. 34 in 34 goes in-depth into each NA3HL team and will include interviews with all 34 head coaches in the NA3HL, as they provide fans with their expectations and outlook for the 2015-16 season, including taking a look at their potential roster and their strengths as a team for the upcoming season. It will also take a look back on the 2014-15 season and how each team fared and what they accomplished. Best of all, 34 in 34 will provide the fans of the NA3HL with an inside look at their favorite team and what to expect.
Toledo Cherokee
2014-15 Record: 28-14-5, 61 pts. (3rd in the East Division)
2014-15 Playoffs: Lost in East Division semi-finals to Pittsburgh, 2-0
Head Coach: Kenny Miller
2015-16 Division: East
The Toledo Cherokee have a long and distinguished history in junior hockey. Throughout the 90's they were a dominant in team that won multiple league and playoff championships as well as the 1998 Jr. B National Championship. The Cherokee's continued success looks to continue this season in Toledo. They have made the playoffs four out of the last five years and they look to continue that streak this year.
"I am excited with the group of players that we have coming in this season. I would expect us to be a hard working team that competes every night and work towards making the playoffs and seeing what we can do once we get to the playoffs," said head coach Kenny Miller.
The Cherokee are lead behind the bench by head coach Kenny Miller. Coach Miller took over as head coach of the Cherokee in 2013. Miller has coached at multiple levels of hockey and moved countless players on to NCAA division one hockey and professional hockey. Coach Miller is no stranger to the NAHL family of leagues as he previously spent time as assistant coach of the Toledo IceDiggers in the NAHL and head coach of the Alpena IceDiggers in the NAHL. During the 2006-07 season he was named NAHL General Manager of the year as he guided Alpena to a franchise record 37 wins.
Coach Miller is pleased with what he has seen so far from his team on the ice and is looking forward to the 2015-16 season. "I like our group a lot, we have been skating for a week now and the guys are working hard. It will be on the coaching staff to make sure the guys stick to the process and continue to get better every day," said Miller.
One important key to every successful team is goaltending. Coach Miller is very pleased with what he has in net this year and is looking for it to be a very strong foundation of his team. "With having our # 1 goaltender back (Glen Bates) and a good young goalie (Jeremy Hamerquist) playing alongside him we should be really strong in net. I look forward to our goaltending really being a backbone of our team," said Miller.
The Cherokee are loaded in other positions as well with a large nucleus of last year's players returning for this season. "We also return a large group of forwards and defenseman. Up front we have Tyler Zalecki, Austin Turner, Tristin Snyder, Alec Walny, Ethan Resetar, and Nik Verbosky all returning. On defense we have Ben Hamilton, Blake Mullins, and David Borgart returning. I expect Bogart to really lead the defense and log a lot of minutes for us this season. I like our veteran players a lot, they are coming into this season with a different attitude and ready to prove that they can play at a high level every night," said Miller.
With 10 players returning to the Cherokee this season they will be a very veteran team on and off the ice. They will look to be challenging once again for a playoff spot, East division title, and a potential birth to the Silver Cup.
Next up in the 34 in 34 series: Twin City Steel