34 in 34: Twin City Steel
August 30, 2015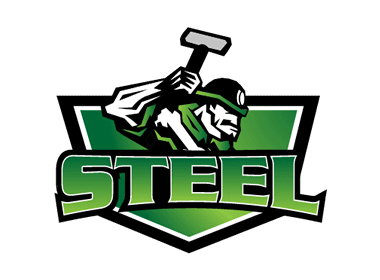 The 34 in 34 series will feature an in-depth look into all 34 teams in the NA3HL for the 2015-16 season, with a new team being highlighted daily, leading all the way up until the start of the regular season. 34 in 34 goes in-depth into each NA3HL team and will include interviews with all 34 head coaches in the NA3HL, as they provide fans with their expectations and outlook for the 2015-16 season, including taking a look at their potential roster and their strengths as a team for the upcoming season. It will also take a look back on the 2014-15 season and how each team fared and what they accomplished. Best of all, 34 in 34 will provide the fans of the NA3HL with an inside look at their favorite team and what to expect.
Twin City Steel
2014-15 Record: 23-22-2, 48 pts. (4th in the West Division)
2014-15 Playoffs: Lost in West Division semi-finals to North Iowa, 2-0
Head Coach: Jay Witta
2015-16 Division: West
The Twin City Steel are set to begin their 5th season in the NA3HL and they are hoping it is a successful one. They have the made playoffs the past two seasons before being knocked out by perennial power North Iowa. This season the Steel will have a new head coach in former St. Could State Husky Jay Witta. Witta has coached youth and AAA hockey in Minnesota for the past 13 years. To compliment Witta's coaching and communication skills, the Steel have assembled a World class coaching staff with Director of Player Development Kevin Hartzell and former Bethel University forward standout, Assistant Coach Josh Shingler. Coach Witta is thrilled with the coaching staff that the Steel have been able to assemble for this season. "We are thrilled to have Hartzy on board working with the Blacks, Josh, myself and our players. There is no better teacher or communicator in the Game of Hockey and when we asked Kevin to join the Steel and he accepted, we knew we had the right piece of the puzzle put together for our Steel squad this coming season."
First year head coach Witta will have the luxury of returning a large amount of last season's playoff team for the 2015-16 season and is excited to have them back in the mix. "This years Steel squad is going to look very familiar with 12 returning players which includes 9 forwards and 3 defenseman. The Steel are excited to welcome back veterans Russ Barone, Jay Paul, Joe Costello, Jared Erickson, Alex Egle, Paul Stehr, Bennett Witta, Nick Campbell, Tristan Mayer, Tom Reilly, James Hale and Chad Carney. We expect these players to be accountable for their work ethic/development, as well as lead the way, not only on the ice and locker room, but in the community of White Bear Lake as well. With their size, speed, and puck possession skills the Steel will bring a fast paced game to this year's Western Division," said Witta.
Coach Witta is expecting a lot from his team this coming season. "We have very high expectations for this group of players. And the returning players do too. Beating eventual National Champion North Iowa 4 out of 8 games last season and then losing to them in the first round of the playoffs left a sour taste in a lot of these guys mouths. So we expect to compete with the best from the beginning and hopefully start peaking during playoffs. Oh yea, we are going to have a lot of fun. Yes, I said it "Fun". It's a word a lot of coaches do not like to use. But I have always preached this from the Mite level all the way up to the Pro level - once the game becomes unfulfilling to a player - and that drive to compete and become the best you can be is lost - that player loses their love for the game. My #1 job and responsibility as a Head Coach is to instill love and confidence in each player to want come to the rink everyday and keep playing this great game for as long as they can," said Witta.
Next up in the 34 in 34 series: West Michigan Wolves