13 in 13: New England Stars
September 4, 2015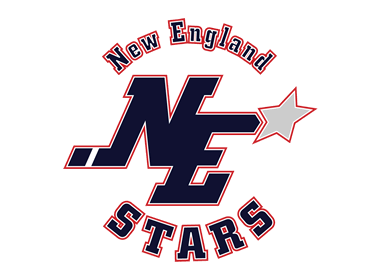 The 13 in 13 series will feature an in-depth look into all 13 teams in the NA3EHL for the 2015-16 season, with a new team being highlighted daily, leading all the way up until the start of the regular season on Friday, September 11th as eight teams take to the ice on Opening Night.13 in 13 goes in-depth into each NA3EHL team and will include interviews with all 13 head coaches in the NA3EHL, as they provide fans with their expectations and outlook for the 2015-16 season, including taking a look at their potential roster and their strengths as a team for the upcoming season. It will also take a look back on the 2014-15 season and how each team fared and what they accomplished. Best of all, 13 in 13 will provide the fans of the NA3EHL with an inside look at their favorite team and what to expect.
New England Stars
2014-15 Record: 25-13-3, 53 pts. (2nd in the Eastern Division)
2015 Playoffs: Lost to Cape Cod in the Eastern Division Semi-Finals, 2-0
Head Coach: Darryl Green
2015-16 Division: East
The New England Stars had a successful campaign last year. Posting the 3rd best overall record in the league, which included 25 wins, the Stars got off to a fast 5-1 start and also put together an eight-game winning streak during the year. Forward Jake Latham proved to be one of the best goal-scorers in the league and Ian McNamera won the NA3EHL's Community Service Award.
Despite having home ice in the first round of the playoffs, the Stars lost two close games to Cape Cod in the Eastern Division Semi-Finals and saw their season come to an end soon than they had anticipated. Head Coach Darryl Green, who is heading into his fourth season as head coach, said that despite losing in the opening round of the playoffs, he was happy with what the team accomplished. "We had a great regular season and put ourselves in a position to have a successful playoff run. Unfortunately, we lost two really close games to Cape Cod, but sometimes that's just hockey. It was a bit dissatisfying. However, we have three guys going onto the NCAA and another one that just signed a pro contract in Norway, so overall we were happy," said Green.
Green said that he wants to continue the momentum the team has built up the past couple of seasons. "I think our staff works well together. Developing has been our #1 priority. We traditionally have gone with a young group, but we want our guys to move on to somewhere bigger and better," stated Green.
The Stars will have the big advantage of returning nine players from last year's team that posted 25 wins. That starts in goal with the return of Devyn Levesque, who appeared in seven games last season. It continues with defensemen Brian Glover (24 points), Ian McNamera (14 points), Tim Paige (10 points) and Aidan Conlon (4 points). Rounding out the veteran group are forwards Steve Crocker (27 points), Ryan Gauvin (23 points), Brendan Miller (13 points) and Kyle Weiss (12 points). "I look to all of our returning players to make an impact early on in the season and establish the kind of culture we want in the lockerroom. All of them have a lot of experience and all of the new players we have brought in have been very responsive so far, so we think it is a good mix of guys," stated Green.
Green said that for this season, the plan is to continue along the path had and General Manager Dan Fontas have established the past couple of seasons. "We want to have a balanced team that can roll four lines and have a lockerroom atmosphere we guys can lean and rely on one another. I think what we did last season is something to build on and learn from and hopefully with the number of returning players we have this season, we can be that much better and learn from past experiences," said Green.
Next up in the 13 in 13 series: New York Aviators