13 in 13: New York Aviators
September 5, 2015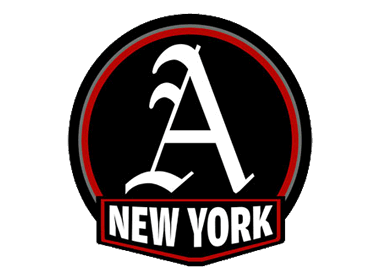 The 13 in 13 series will feature an in-depth look into all 13 teams in the NA3EHL for the 2015-16 season, with a new team being highlighted daily, leading all the way up until the start of the regular season on Friday, September 11th as eight teams take to the ice on Opening Night.13 in 13 goes in-depth into each NA3EHL team and will include interviews with all 13 head coaches in the NA3EHL, as they provide fans with their expectations and outlook for the 2015-16 season, including taking a look at their potential roster and their strengths as a team for the upcoming season. It will also take a look back on the 2014-15 season and how each team fared and what they accomplished. Best of all, 13 in 13 will provide the fans of the NA3EHL with an inside look at their favorite team and what to expect.
New York Aviators
2014-15 Record: 30-8-1, 61 pts. (2nd in North Division) *USPHL3 League
2015 Playoffs: Won the USPHL3 Championship
Head Coach: Mike Stanaway
2015-16 Division: West
New to the NA3HL this season is the New York Aviators. The Aviators aren't new to the hockey landscape or success. The Aviators were announced back in April as they joined the league having played and been successful in the USPHL the season prior.
The Aviators are led but Head Coach and General Manager Mike Stanaway. One of the most successful coaches in Tier III junior hockey, Stanaway has led three teams to league championships, including the Southern Oregon Spartans in the NORPAC in 2012, the Marquette Royales in the MnJHL in 2014 and the New York Aviators in the USPHL in 2015. Each of these teams earned USA Hockey Junior National Tournament berths with his most successful result coming with the Aviators in 2015, finishing as the national runner-up.
Over the course of that time, Stanaway has helped placed well over 50 players into NCAA schools. Stanaway said that he is looking forward to the competition in the NA3HL. "I think it will be neat to face some new teams and see where we stack up. Last year was a very successful one for us, so we hope to keep that momentum going and make a good run. There should be some very good competition in the NA3HL," said Stanaway.
Stanaway said that last year's team was very balanced and that is something he hopes to replicate this season. "I think we were strong at all position and didn't have a glaring weakness. I would say that for this year we wanted some more depth to our 3rd and 4th lines."
The Aviators return with a significant veteran presence on the team this season, which include forwards Jimmy Warrick, Dan Backstrom, Tristan Malone, Seth Muzyl, Martin Grinberg and Sam Shaheen, along with defensemen Ricky Regala, Augie Onorato and goaltender Anthony DiGiorgio.
Stanaway is also excited about new defenseman Erik Hewitt. He played for Stanaway in Marquette during the 2013-14 season and also has some NA3HL experience with Alexandria. "To get Erik back was a big pick up for us. He will bring that veteran presence we are looking for and he can move the puck," said Stanaway. The Aviators also signed 6'7 goalie Stephen Mundinger. "He is a guy we played against last year and he knows how to use his size."
"First and foremost we want to move on as many players as possible. Our goal is also to win. If we don't win the championship, we will be disappointed. That should be anyone's goal, but we feel we will compete," said Stanaway.
Next up in the 13 in 13 series: Northeast Generals