13 in 13: Northeast Generals
September 6, 2015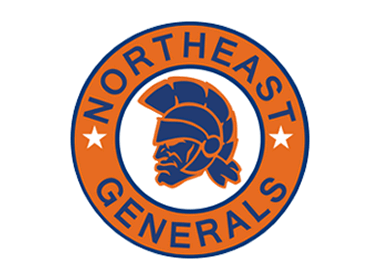 The 13 in 13 series will feature an in-depth look into all 13 teams in the NA3EHL for the 2015-16 season, with a new team being highlighted daily, leading all the way up until the start of the regular season on Friday, September 11th as eight teams take to the ice on Opening Night.13 in 13 goes in-depth into each NA3EHL team and will include interviews with all 13 head coaches in the NA3EHL, as they provide fans with their expectations and outlook for the 2015-16 season, including taking a look at their potential roster and their strengths as a team for the upcoming season. It will also take a look back on the 2014-15 season and how each team fared and what they accomplished. Best of all, 13 in 13 will provide the fans of the NA3EHL with an inside look at their favorite team and what to expect.
Northeast Generals
2014-15 Record: Did not play
2015 Playoffs: n/a
Head Coach: Bryan Erikson
2015-16 Division: East
New to the NA3EHL this year are the Northeast Generals, who play out of Canton, Massachusetts and will be a part of the East Division. The expansion team was announced back in April. The team's home arena is the Canton Sportsplex in Canton, Massachusetts. The arena features two ice surfaces, 8 locker rooms, including a dedicated one for the Generals.
Head coach and general manager, Bryan Erikson, leads the Generals on the ice. Erikson has over 18 years of coaching experience. He started by working closely with his father at Hockey Plus, one of the most successful and long running hockey camps on the South Shore. He has been the head coach at the camp for the last 15 years, overseeing and training all of the staff. Coach Erikson's extensive coaching experience also includes; Head Coach at Wareham/Carver High School, U18 Boston Junior Terriers, Hockey Night in Boston, Bay State Games to name a few.
Erikson said that initially there were some challenges of being an expansion team. "We had to build a roster from scratch, but we got started early and had a good idea of the type of player we wanted and would make us successful," said Erikson. "We looked for guys who were leaders and captains of their respective teams. If we aren't going to be a veteran team, we thought that at least we would be one with good leadership." With that said, the Generals signed 13 players who were captains of their high school or midget team.
Erikson said that the Generals are going to be younger group, but the early task at hand will be to get them to gel quickly. It will be a challenge for the Generals as 15 of their players were born in 1997 or later. "Our expectations are to work very hard, be disciplined and be very hard to play against," said Erikson. "We want to finish in 1st place. That may seem a little far-fetched for an expansion team, but it is in the best interest of our players to set the bar high."
Erikson had no problem in fielding a full roster as 23 players are currently listed and he does have some players with junior experience, who include forwards Travis Hyde and Derric Trudeau. Trudeeau's older brother, Trevor, is one of the two goalies on the team, along with Steven Murphy. Another player that Erikson is eager to see is Ruslan Cernych, a 6'6 Russian-born forward. "I have been able to assemble a roster of kids that do have junior experience, which is important, but our average age is under 18, so we will be a younger group," said Erikson. Two captains have also been chosen in forwards Austin Braley and Kevin Perry. "We couldn't possibility be more excited to get started. We love the league and we really like where we are right now as a team."
Next up in the 13 in 13 series: Roc City Royals