13 in 13: Roc City Royals
September 7, 2015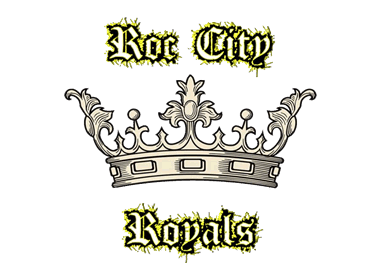 The 13 in 13 series will feature an in-depth look into all 13 teams in the NA3EHL for the 2015-16 season, with a new team being highlighted daily, leading all the way up until the start of the regular season on Friday, September 11th as eight teams take to the ice on Opening Night.13 in 13 goes in-depth into each NA3EHL team and will include interviews with all 13 head coaches in the NA3EHL, as they provide fans with their expectations and outlook for the 2015-16 season, including taking a look at their potential roster and their strengths as a team for the upcoming season. It will also take a look back on the 2014-15 season and how each team fared and what they accomplished. Best of all, 13 in 13 will provide the fans of the NA3EHL with an inside look at their favorite team and what to expect.
Roc City Royals
2014-15 Record: 17-20-4, 38 pts. (4th in the Western Division)
2015 Playoffs: Lost to Jersey Shore in the Western Division Semi-Finals, 2-1
Head Coach: Tom Donnelly
2015-16 Division: West
It was a roller coaster of a season for Roc City in 2014-15. From a team success standpoint, the club hovered around .500, but their best hockey of the season was played in the beginning and end of the year. The team got off to a 6-5 start, but won just one game during a 14-game stretch through November and December. Then, at the end of the year, Roc City put together a great stretch run, in which they posted a 10-3-2 record in their final 15 games.
In the playoffs, the Royals had the unenviable task of trying to upset the Jersey Shore Wildcats, who had lost just a single game during the regular season. The Royals took the Wildcats to the limit, but lost in three games. From an individual standpoint, the team had two tremendous success stories in defenseman John Wise and forward Wesley Austin. Wise was named as the NA3EHL's MVP and Defenseman of the Year and Austin was named the NA3EHL Forward of the Year.
"We were inconsistent as a team, but John and Wesley were committed all season long and played really well," said Roc City coach Tom Donnelly. "I think after Christmas when we solidified our roster we started to really gel and play well as a team. For a first-year team, I was pleased overall."
For this season, the Royals will return a fair number of players, but Donnelly said it is going to somewhat of a rebuilding year. "I think having lost so many key players who were some of our point producers, it will be a little bit of a rebuilding year. I know a lot of guys come out and say the goal is to win a championship, but we have some simpler goals in mind. We want to compete every night, be tough at home and really put our best foot forward when the league Showcases roll around," said Donnelly.
Roc City will have the benefit of returning a handful of players from last year's team. One of the big pieces to that puzzle is forward Anthony DePetres, who had 63 points as season ago, which ranked 2nd and 136 penalty minutes, which led the team. The Royals also return two goals in Justin Nevinger and Ian Stahl, who both saw some decent time between the pipes last year.
Other returning players on the roster include forwards Brian Smith, Joseph Gardner, Jared Tam-Grimshaw, Sam Cammilleri, Patrick Manning, along with defensemen Aiden Conolly and Zach Bucholz. "The competition level in our division is going to be high, so it will be a challenge for us. Our veterans will really be the anchor of our team and the leaders in the lockerroom," said Connelly.
Next up in the 13 in 13 series: Skylands Kings