September 8, 2015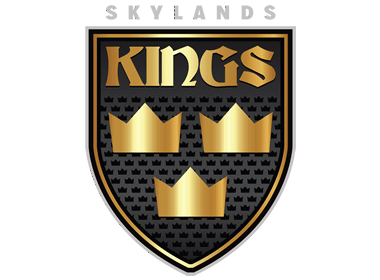 The 13 in 13 series will feature an in-depth look into all 13 teams in the NA3EHL for the 2015-16 season, with a new team being highlighted daily, leading all the way up until the start of the regular season on Friday, September 11th as eight teams take to the ice on Opening Night.13 in 13 goes in-depth into each NA3EHL team and will include interviews with all 13 head coaches in the NA3EHL, as they provide fans with their expectations and outlook for the 2015-16 season, including taking a look at their potential roster and their strengths as a team for the upcoming season. It will also take a look back on the 2014-15 season and how each team fared and what they accomplished. Best of all, 13 in 13 will provide the fans of the NA3EHL with an inside look at their favorite team and what to expect.
Skylands Kings
2014-15 Record: Did not play
2015 Playoffs: n/a
Head Coach: Alex Shindelman
2015-16 Division: East
Another new team to the NA3EHL mix this season are the Skylands Kings, a team based out of Skylands Ice World in Stockholm, New Jersey. The Kings were announced in late November of last season and have been working hard to put a team in place. Helping them do so will be head coach Alex Shindelman and Director of Hockey Programming and Assistant Coach Patrick Choules.
General Manager Rita Mitchell said that she is excited to be a part of the league, which adds an additional element to the Kings teams, which include youth programs for players ages 9-18. "Becoming a member of the NA3EHL provides organization, structure and competition for our young players who seek a greater or different challenge than what is currently available in the market. It will help these players in career advancement, specifically in a collegiate program."
Shindelman has a hockey background spanning 20 years as both player and coach. Shindelman has been a head coach at Skylands of the Kings 16U AA team for the past five years. During that time, he led his team to 5 consecutive playoff appearances, three consecutive district finals, and one appearance in 2012 at nationals. Previously, Shindelman has been a member of the Latvian U20 National Team, the Omaha Lancers of the USHL, the Rochester Mustangs of the USHL, and the Boston Junior Bruins as a standout player.
Choules said that the team is close to being finalized and will be ready for their first game on September 20th. "We have three really strong goalies in Ryan Bartholomew, Mathias Yttereng, and our newest signee in Evan Barghout, who brings some junior experience to the table. All three are hard workers and have tremendous upside and potential," said Choules.
Leading the defense are the trio of Sean Johnson, Cole Skelly and Billy Rafferty. Choules said that all three like to play physical and have good shots from the point. He also stated that the Kings are likely to pick up a few additional defensemen in their final tryout, which takes place this weekend.
Up front, Choules said that the latest pick-up and signing of Cory DeCosta has everyone in Kings camp very excited. "He is an experienced guy, who has unlimited skill. He can skate and should be someone that puts up numbers and gets a look by college scouts," said Choules.
"We have our core in place and now are looking for just a couple of the missing pieces. I think we can be competitive and build some chemistry on and off the ice. I think that will lead to some longer-term success," stated Choules.
Next up in the 13 in 13 series: Syracuse Stampede