13 in 13: Syracuse Stampede
September 9, 2015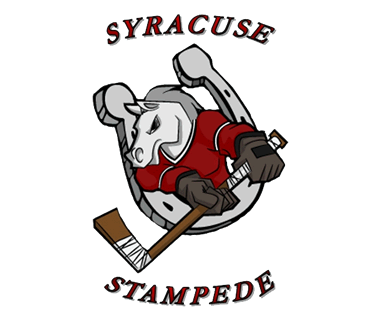 The 13 in 13 series will feature an in-depth look into all 13 teams in the NA3EHL for the 2015-16 season, with a new team being highlighted daily, leading all the way up until the start of the regular season on Friday, September 11th as eight teams take to the ice on Opening Night.13 in 13 goes in-depth into each NA3EHL team and will include interviews with all 13 head coaches in the NA3EHL, as they provide fans with their expectations and outlook for the 2015-16 season, including taking a look at their potential roster and their strengths as a team for the upcoming season. It will also take a look back on the 2014-15 season and how each team fared and what they accomplished. Best of all, 13 in 13 will provide the fans of the NA3EHL with an inside look at their favorite team and what to expect.
Syracuse Stampede
2014-15 Record: 10-28-3, 23 pts. (5th in the Western Division)
2015 Playoffs: Did not qualify
Head Coach: Mike Beavis
2015-16 Division: West
The 2014-15 season is one that the Syracuse Stampede learned from, but also one they have put in their review mirror. The team managed just 10 wins during the regular season and we the lone team in the West Division that did not make the playoffs. The team struggled to find consistency and the second half of the season was particularly tough. "I think we were in a lot of games last year, but it was a tough situation last year because we got a late start on recruiting and went through a staffing change that also affected things. We didn't sign our first player until June 1st, but regardless my team's are usually competitive so it was disappointing and something we will learn from," said Syracuse head coach Mike Beavis.
There were some highlights from the team last year, specifically because of players like Braeden Pearl, Xavier Perron and Felix Landry, who all played well and excelled enough so that each of them received offers to play NCAA hockey. "It was a positive that the three guys who were aging out all got college opportunities, so that told us that the development path is working," said Beavis.
The good news for the 2015-16 season is that Syracuse has a full roster and did their recruiting and homework leading up to this point. "Our biggest need was depth and we went out and got a roster of 25 guys who we believe can help us get better and compete. The majority of our depth last year didn't extend beyond two lines. This season, we will be able to roll four lines, have a solid and deep defensive corps and three capable goalies, so we are in a much better place than we were a year ago," stated Beavis.
The Stampede will return just five players to the line-up for the 2015-16 season, which includes captain defenseman Dan Buehler (11 points), defenseman Demitris Christou (10 games), forwards Raymond Falso (15 points), Josh Wallace (9 points) and Nick Chalifoux along with goaltender Ryan Scheide (13 games played). "I think the good news for all of our returners is that they will be looked upon for leadership and enhances roles this season, so that should provide them with the opportunity to excel and see what they are capable of in a full-time role," said Beavis.
This year's team will be younger with 15 of the players on the roster having been born in 1997 or later. It also includes 9 players that are from outside the state of New York. After 10 wins a season ago, there is really nowhere to go but up. "First and foremost, we need to gel as a unit. Second, we have to think defense first and taking care of our own end. I have always taken pride in the way my team's play defense and are hard to score on and that's what I will expect," said Beavis.
Next up in the 13 in 13 series: Wilkes-Barre Miners