September 25, 2015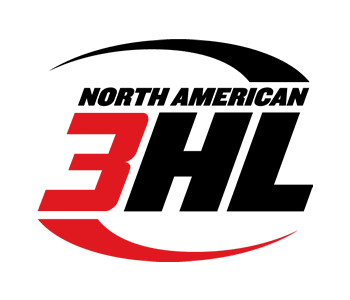 The North American 3 Hockey League (NA3HL) gets back to action this weekend as the Frontier Division takes center stage with many teams starting their seasons. Also, the out-of-division action heats up this weekend when some classic rivalries are renewed.
In the Central Division, North Iowa plays a three-game set in Chicago. The Bulls went 1-0-1 last weekend and appear to have another very strong squad. Meanwhile, the Jr. Bulldogs have started 0-4 and are still looking for their first win, which will be a challenge against the Bulls.
In the East, West Michigan will be the busy team as they host Toledo on Friday and travel to 1st place Metro on Saturday. Southern Tier travels to Wooster on Saturday.
The Frontier Division will be a busy place this weekend as Billings, Bozeman, Gillette and Yellowstone all make their 2015-16 season debuts. The Glacier Nationals will travel to Gillette to take on the Wild Friday and Saturday. Billings will open at home on Friday against Helena, who is 1-0 on the season. Great Falls, who is also 1-0, will travel to Yellowstone for a pair of games against the Quake. Bozeman will open their season as they travel to Helena on Saturday night.
The Midwest Division has a very enticing match-up this weekend as 3-1 St. Louis travels to Nashville to take on the 2-0 Jr. Predators. Also, Cincinnati (2-2) travels to Evansville (0-2) with the Thunderbolts looking for their first win.
In the South Division, Euless (0-2) will travel to Sugar Land (1-1) for a three-game set on Friday, Saturday and Sunday. Atlanta, who is also looking for their first win, will face a difficult challenge as they host undefeated Point Mallard this weekend.
In the West Division, Granite City will be the busy team as they look to stay undefeated with road games in Twin City against the undefeated Steel on Friday and against the Minnesota Flying Aces on Saturday.
In the out-of-division games, Alexandria is in La Crosse to take on the undefeated Freeze. The Peoria Mustangs and Wisconsin Whalers renew an old rivalry with a home-and-home series on Friday and Sunday. Also, an exciting state of Minnesota match-up takes place as Rochester and Breezy Point play a home-and-home series with both clubs looking for their first wins.
Central Division
FRI, SEP 25 North Iowa vs Chicago
SAT, SEP 26 North Iowa vs Chicago
SUN, SEP 27 North Iowa vs Chicago
East Division
FRI, SEP 25 Toledo vs West Michigan
SAT, SEP 26 West Michigan vs Metro
SAT, SEP 26 Southern Tier vs Wooster
Frontier Division
FRI, SEP 25 Glacier vs Gillette
FRI, SEP 25 Helena vs Billings
FRI, SEP 25 Great Falls vs Yellowstone
SAT, SEP 26 Glacier vs Gillette
SAT, SEP 26 Bozeman vs Helena
SAT, SEP 26 Great Falls vs Yellowstone
Midwest Division
FRI, SEP 25 St. Louis vs Nashville
FRI, SEP 25 Cincinnati vs Evansville
SAT, SEP 26 St. Louis vs Nashville
SAT, SEP 26 Cincinnati vs Evansville
South Division
FRI, SEP 25 Euless vs Sugar Land
FRI, SEP 25 Point Mallard vs Atlanta
SAT, SEP 26 Euless vs Sugar Land
SAT, SEP 26 Point Mallard vs Atlanta
SUN, SEP 27 Euless vs Sugar Land
West Division
FRI, SEP 25 Granite City vs Twin City
SAT, SEP 26 Granite City vs Minnesota
Out of Division
FRI, SEP 25 Alexandria vs La Crosse
FRI, SEP 25 Peoria vs Wisconsin
FRI, SEP 25 Rochester vs Breezy Point
SAT, SEP 26 Alexandria vs La Crosse
SAT, SEP 26 Breezy Point vs Rochester
SUN, SEP 27 Wisconsin vs Peoria