Metro defenseman Chavis II gets call to NAHL
September 28, 2015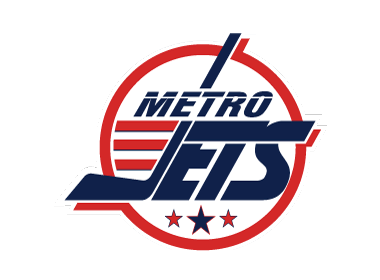 By Matt Mackinder, Metro Jets
It's onward and upward for former Metro Jets captain David Chavis II.
Just five games into the North American 3 Hockey League season, Chavis has been called up to play with the Aston Rebels of the North American Hockey League.
Chavis previously played in the NAHL during the 2013-14 season with the Odessa Jackalopes and had a stint with the Minnesota Wilderness in 2014-15.
Now, the 20-year-old native of Grosse Pointe Woods, Mich., is ready for a fresh start with the Pennsylvania-based Rebels and has the Jets coaching staff, including coach-GM Justin Quenneville, to credit.
"Last year, I trusted Q's process and just worked as hard as I could every day," said Chavis. "His methods paid off, and now I've got an opportunity thanks to Q and the rest of the Metro Jets coaching staff. This opportunity actually came up when the Rebels were still the Rio Grande Valley Killer Bees down in Texas. Aston coach Joe Coombs and Coach Q have a good relationship and when Rio needed to add a few guys to the back end, it was a natural fit for me."
"I'm glad we were able to provide this opportunity to David early and continue this platform for players in our program to develop and advance," Quenneville said. "He's a force defensively on the ice and an even better person off the ice. Joe and I talked about the timing of his opportunity and he felt after the NAHL Showcase in Blaine (Minn.) would be a good time for him. He is deserving and we wish him the best of luck."
Chavis popped eight goals among 26 points last year for the Jets and also finished plus-39, good for a tie for tops in the NA3HL. He also scored the Jets first goal in their 4-3 win over the West Michigan Wolves last Saturday night at home.
"Q and Coach Randy (Wilson) played a huge role in getting me back into the NAHL," explained Chavis. "Not only did they help me on and off the ice every day during training all last season and all this past summer, but they went to bat for me and really helped put my name out there for potential teams to take notice and give me a shot. Without them, I definitely would not be where I am now."
And with this season being Chavis' final year of junior eligibility, he wants to do nothing more than leave it all on the ice."My expectations are to obviously win a championship, but also to develop as much as possible so when the chance to play college hockey happens, I can be ready and confident to play at such a high level," noted Chavis. "What I need to do to accomplish this and stay in Aston all year is work as hard as I can but also to be consistent every day."