Metro forward Tellstrom gets call to the NAHL
October 1, 2015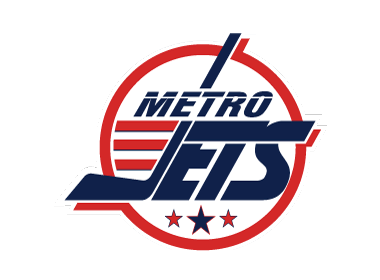 By Matt Mackinder, Metro Jets
In just three days' time, the Metro Jets lost arguably their top defenseman and top forward.
And they couldn't be happier.
On Monday, blueliner and former captain David Chavis II was called up to the Aston Rebels of the North American Hockey League and then Wednesday, rookie forward Mathias Tellstrom earned an advancement with the NAHL's Kenai River Brown Bears.
"We are fortunate here that we have a program that can provide players the best opportunity to develop and advance," said Jets coach-GM Justin Quenneville. "We take pride in helping these young men and I will say it again, but year after year I am grateful to work for ownership groups that allow me to do this for players."
Tellstrom played in all five games for the Jets this season, netting a goal and three assists for four points. His lone goal was the game-winner in last Saturday night's 4-3 win at home over the West Michigan Wolves.
"Mathias has the ability to play at the NAHL and that was evident the moment he stepped on the ice with us in training camp," noted Quenneville. "Knowing (Kenai River coach) Geoff Beauparlant for years and coaching against him, Mathias will fit in well. They have a great program and play on Olympic ice at home as well. He should transition well."
"Coach Q and Geoff talked on the phone about me because Kenai has an open import spot, so they've decided to give me an opportunity, which I'm grateful for," added Tellstrom. "I know that the team is from Alaska, which is pretty similar to Sweden with cold winters, a lot of trees and lakes. The NAHL is similar to the NA3HL, but with a faster pace and more skillful players, which I like."
Joining the Jets from Linkoping, Sweden, Tellstrom now heads to the Last Frontier to make an impact and to hopefully, stay there all season. "Justin told me that if I do my best every single day and work on the small things on the ice, the opportunity will come and I know from recent seasons that Metro and the coaches has been great when it comes to moving up players to NAHL," said Tellstrom. "They're experienced in doing this and I never doubted in them and as I said before, I'm very grateful for this opportunity.
"I think that if I just keep working hard on and off the ice as I have in Metro, I'll have a good chance of completing the season in NAHL."
The Brown Bears travel to play the Minnesota Wilderness and former Jets forward Ryan Bloom this weekend at the Northwoods Credit Union Arena in Cloquet, Minn.