October 9, 2015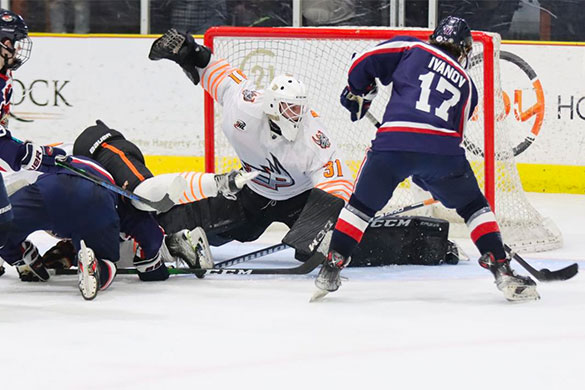 It is another full weekend of games in the NA3HL. While many of the division leaders are in action, several teams who are still looking for their first win are also playing this weekend and looking to get in the win column.
Not only does the action feature some great divisional rivalries, but also some out of division games that rekindle old division rivalries from last season.
In the Central Division, division leading La Crosse will have their hands full with a series down in the road against the Whalers. The Freeze are one of just three remaining unbeaten teams in the NA3HL (Great Falls, Bozeman). In the other series, Rochester will visit Chicago in a three game set with both teams looking for their first win.
In the East Division, the division-leading Metro Jets have a home-and-home series with the Wooster Oilers. The 2nd place West Michigan Wolves will also have a home-and-home series with Toledo, who is tied for 3rd place. Southern Tier and Pittsburgh round out division play with another home-and-home series.
In the Frontier Division, Bozeman puts their early perfect record on the line with two tough tests in Gillette. Great Falls will put their undefeated and 1st place record on the line when they host Yellowstone and the Glacier Nationals will take to the road for a pair of games in Billings against the Bulls with both clubs still looking for their first wins of the season.
In the Midwest, the red-hot St. Louis Jr. Blues host Cincinnati for a pair of games. The Thunder have won four in a row, while the Jr. Blues have won four straight. In the other series in the Midwest, Evansville looks for their first win as they travel to Peoria, who sit in a tie for 2nd place with a 4-4 record.
In the South, the Texas Jr. Brahmas are in Sugar Land for three games as the Imperials are off to a very good 4-1 start. The Louisiana Drillers, who have played just two games to date, are in Euless to take on the Jr. Stars, who are still looking for their first win of the season.
In the West, Alexandria and Minnesota are the busy teams this weekend with two road games apiece. The Blizzard play Granite City and Minnesota, while the Flying Aces face off against Twin City and Alexandria.
Out of the divisions, the North Iowa Bulls face old West Divisional rival Breezy Point in a pair of road games, while Point Mallard is at Nashville for one game in an old South Division match-up.
Central Division
FRI, OCT 09 La Crosse vs Wisconsin
FRI, OCT 09 Rochester vs Chicago
SAT, OCT 10 La Crosse vs Wisconsin
SAT, OCT 10 Rochester vs Chicago
SUN, OCT 11 Rochester vs Chicago
East Division
FRI, OCT 09 West Michigan vs Toledo
FRI, OCT 09 Metro vs Wooster
SAT, OCT 10 Pittsburgh vs Southern Tier
SAT, OCT 10 Toledo vs West Michigan
SAT, OCT 10 Wooster vs Metro
SUN, OCT 11 Southern Tier vs Pittsburgh
Frontier Division
FRI, OCT 09 Bozeman vs Gillette
FRI, OCT 09 Yellowstone vs Great Falls
FRI, OCT 09 Glacier vs Billings
SAT, OCT 10 Bozeman vs Gillette
SAT, OCT 10 Glacier vs Billings
SAT, OCT 10 Yellowstone vs Great Falls
Midwest Division
SAT, OCT 10 Evansville vs Peoria
SAT, OCT 10 Cincinnati vs St. Louis
SUN, OCT 11 Cincinnati vs St. Louis
SUN, OCT 11 Evansville vs Peoria
South Division
FRI, OCT 09 Texas vs Sugar Land
FRI, OCT 09 Louisiana vs Euless
SAT, OCT 10 Texas vs Sugar Land
SAT, OCT 10 Louisiana vs Euless
SUN, OCT 11 Texas vs Sugar Land
West Division
FRI, OCT 09 Minnesota vs Twin City
FRI, OCT 09 Alexandria vs Granite City
SAT, OCT 10 Alexandria vs Minnesota
Out of Division
FRI, OCT 09 North Iowa vs Breezy Point
SAT, OCT 10 Point Mallard vs Nashville
SAT, OCT 10 North Iowa vs Breezy Point