NA3EHL announces Easton Hockey Stars of the Week
October 13, 2015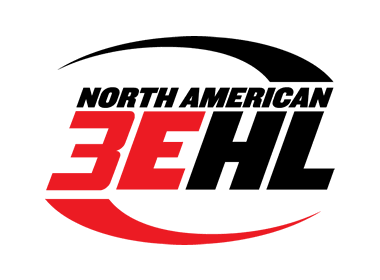 The North American 3 Eastern Hockey League (NA3EHL) today announced the Divisional Stars of the Week presented by Easton Hockey for the week ending October 11, 2015. The divisional stars of the week is an award given each week of the regular season to the top performing players in each of the two divisions of the NA3EHL as nominated by their head coaches.
East Division Star of the Week: Zach Gagne, defenseman, Maine Wild
The Maine Wild had a busy and tough schedule at the NA3EHL Showcase this past weekend, but showed very well, which included the play from players like defenseman Zach Gagne. The 19-year-old native of Augusta, ME, was a factor for the team in all three games during the event as he posted eight points and a +3 rating, while the team went 1-2. On Friday, Gagne (6'1/200) had two goals and two assists in an 8-3 win over the Skylands Kings. On Saturday, he posted an assist in a 6-4 loss against the Lockport Express and on Sunday, he had two goals and an assist in a 6-5 loss against Roc City. In 11 games with the Wild this season, Gagne has 11 points, which leads all blueliners. "Zach is our captain and everything starts and ends with him. I was proud to see him have a big weekend from the point he works really hard everyday on and off the ice I am glad to see his hard work pay off," said Maine head coach Mike Tenney.
2nd Star: Noel Fischer, F, Maine Wild
Honorable Mention (alphabetical): James Brosnan, F, Cape Cod Islanders
West Division Star of the Week: Andrew Logar, forward, Lockport Express
It was a breakout weekend for Lockport forward Andrew Logar and could not have come at a better time at the NA3EHL Showcase this past weekend. The 18-year-old native of Lewiston, NY, helped the Express to two wins in two games at the event and in the process recorded nine points and a +8 rating. On Saturday, Logar (5'8/160) had a goal and two assists in a 6-4 win over the Maine Wild. On Sunday, Logar had six assists and was a +5 in a 13-3 win over the Northeast Generals. In 12 games so far this season, Logar is 3rd in scoring on the team with 14 points. "Andrew is new to the junior level but I have coached him previously and have watched him develop over the years. He is very skilled, works hard and seemingly gets more acclimated to the junior game every ice time. He is a real asset for our program," said Lockport head coach Frank Vecchio.
2nd Star: Frederic Ampleman, F, Jersey Shore Wildcats
Honorable Mention (alphabetical): Rocco DeRollo, F, Syracuse Stampede – Scott Hansen, D, Jersey Shore Wildcats – Devin Kasperek, D, Lockport Express - Kyle VanWagner, G, Syracuse Stampede