October 16, 2015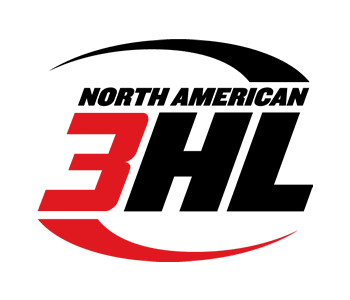 Out of Division match-ups take center stage this weekend in the NA3HL as 29 games are set for Friday, Saturday and Sunday. At this point of the season, no unbeaten teams remain, however, both North Iowa and Twin City, who are both in action this weekend, have yet to lose a game in regulation.
Watch all the action this weekend live on
FASTHockey
In the Central Division, it is a home and home series between La Crosse and Wisconsin. The two teams split a series last weekend.
In the East Division, the 1st place Metro Jets are on the road at Southern Tier, while Toledo, who is just two points Metro for 1st place, is in Pittsburgh to take on the Vengeance in a series.
The Frontier Division is very busy this weekend as Helena will host Yellowstone this weekend. The Quake have had five of their six games decided by a goal. 1st place Great Falls is in Billings for their lone game. Gillette is at Glacier for a weekend series and Bozeman hosts Billings on Saturday.
In the Midwest Division, the 2nd place Peoria Mustangs host the 3rd place Nashville Jr. Predators.
In the South Division, the Louisiana Drillers will play their inaugural home game as they host a weekend series against the Sugar Land Imperials. The Drillers have played just four games to date, which is the fewest in the NA3HL along with Bozeman.
In the West Division, Granite City will be the busy team as they host Minnesota on Friday and travel to Breezy Point on Saturday.
Outside the divisions feature some intriguing match-ups. In a battle of Ohio, Cincinnati and Wooster will play and home-and-home series. 1st place teams collide when St. Louis will travel to play Point Mallard. Chicago faces a tough order to try and earn their first win as they travel to Twin City. Old division rivals meet again as North Iowa travels to Alexandria. The Evansville Thunderbolts are also looking for their first win as they travel south to Atlanta to take on the Capitals. Minnesota is at Rochester on Saturday as the Ice Hawks looks to keep their winning streak going.
Central Division
FRI, OCT 16 La Crosse vs Wisconsin
SAT, OCT 17 Wisconsin vs La Crosse
East Division
FRI, OCT 16 Metro vs Southern Tier
SAT, OCT 17 Metro vs Southern Tier
SAT, OCT 17 Toledo vs Pittsburgh
SUN, OCT 18 Toledo vs Pittsburgh
Frontier Division
FRI, OCT 16 Yellowstone vs Helena
FRI, OCT 16 Great Falls vs Billings
FRI, OCT 16 Gillette vs Glacier
SAT, OCT 17 Yellowstone vs Helena
SAT, OCT 17 Billings vs Bozeman
SAT, OCT 17 Gillette vs Glacier
Midwest Division
SAT, OCT 17 Nashville vs Peoria
SUN, OCT 18 Nashville vs Peoria
South Division
SAT, OCT 17 Sugar Land vs Louisiana
SUN, OCT 18 Sugar Land vs Louisiana
West Division
FRI, OCT 16 Minnesota vs Granite City
SAT, OCT 17 Granite City vs Breezy Point
Out of Division
FRI, OCT 16 Chicago vs Twin City
FRI, OCT 16 North Iowa vs Alexandria
FRI, OCT 16 St. Louis vs Point Mallard
FRI, OCT 16 Evansville vs Atlanta
FRI, OCT 16 Wooster vs Cincinnati
SAT, OCT 17 St. Louis vs Point Mallard
SAT, OCT 17 Evansville vs Atlanta
SAT, OCT 17 Chicago vs Twin City
SAT, OCT 17 Minnesota vs Rochester
SAT, OCT 17 North Iowa vs Alexandria
SAT, OCT 17 Cincinnati vs Wooster