NA3EHL announces Easton Hockey Stars of the Week
November 24, 2015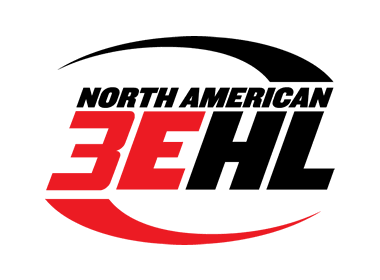 The North American 3 Eastern Hockey League (NA3EHL) today announced the Divisional Stars of the Week presented by Easton Hockey for the week ending November 22, 2015. The divisional stars of the week is an award given each week of the regular season to the top performing players in each of the two divisions of the NA3EHL as nominated by their head coaches.
East Division Star of the Week: Mike Jessman, forward, Cape Cod Islanders
The Cape Cod Islanders have rolled to six straight wins and eight of their last nine, thanks in part to another winning weekend as they took care of the Skylands Kings in a weekend series at home. Islanders forward Mike Jessman, 20, was a huge factor in the two wins as the forward from Falmouth, MA, had seven points and was +5 in the two wins. On Saturday, Jessman (5'7/185) had three assists in a 5-3 win and on Sunday, he recorded four goals in a 10-7 win. For the season, Jessman is 2nd on the team in scoring with 34 points in just 23 games played. "Mike has really stepped up his game as of late. He and his linemates create so many offensive opportunities that they are hard to game plan for. Mike has become a great leader on and off the ice and our team is benefiting from his leadership," said Cape Cod head coach Jay Punsky.
2nd Star: Jake Latham, F, New England Stars
Honorable Mention (alphabetical): Hunter McTague, D, New England Stars – Alex O'Dowd, F, Northeast Generals
West Division Star of the Week: Christian Cooley, forward, Jersey Shore Wildcats
In three road games this past weekend, Jersey Shore Wildcats forward Christian Cooley, 18, was able to rack up five points and a +1 rating as the Wildcats won two of three games. The native of St. Louis, MO, had a big outing with two goals and two assists in a 9-3 win over Roc City and also had an assist in a 5-3 loss at Syracuse. In 23 games played this year, Cooley (6'4/180) has 35 points. "Christian is one of our younger players who came a long way from when he got here with us early this season in late August. He is the perfect example of a player we are comfortable to have coming from a mid-low background but with very high level of potential and has the full drive to reach it in combination with all resources available for him. He is probably one of the most improved player so far on the team from skill, physical strength to System / Hockey IQ development with and without the puck since day one among others as well. He is certainly heading out the right direction for his future," said Wildcats head coach Eric Brule.
2nd Star: Justin Durkee, F, Lockport Express
Honorable Mention (alphabetical): Aidan Connelly, D, Roc City Royals – Dylan Plsek, F, Jersey Shore Wildcats – Ian Stahl, G, Roc City Royals – Sal Stalteri, G, Lockport Express – Kyle VanWagner, G, Syracuse Stampede - Nate Walker, F, Syracuse Stampede