NA3HL announces Easton Hockey Divisional Stars of the Week
December 1, 2015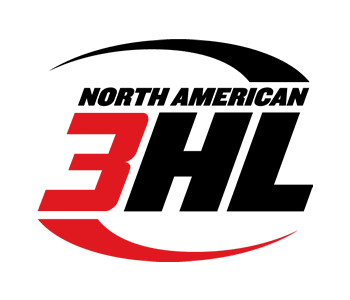 The North American 3 Hockey League (NA3HL) today announced the Divisional Stars of the Week presented by Easton Hockey for the week ending November 29, 2015. The divisional stars of the week is an award given each week of the regular season to the top performing players in each of the six divisions of the NA3HL as nominated by their head coaches.
Central Division Star of the Week: Ben Henderson, forward, La Crosse Freeze
The La Crosse Freeze picked up two wins in three road games this past week and forward Ben Henderson, 19, played a major role in the team's production. The native of North Branch, MN, had five points during the week and recorded at least a goal in all three games. On Wednesday, Henderson (5'9/185) had a goal in a 7-2 road loss in Wisconsin against the Whalers. On Friday, he had two goals, including the game-winner, in a 5-4 overtime win against the Minnesota Flying Aces. On Saturday, he scored another goal in a 4-2 win. For the season, the veteran forward has 16 points in 19 games played. "We are excited that Ben is being recognized for his hard work. He is a leader on our team both on and off the ice. As an organization we congratulate Ben and appreciate his commitment and loyalty to our program," said Freeze head coach Ryan Egan.
2nd Star: Nathan Viberg, F, Wisconsin Whalers
Honorable Mention (alphabetical): Max McConnell, G, Wisconsin Whalers – Toby Sengvongxay, D, La Crosse Freeze
East Division Star of the Week: No Games
Frontier Division Star of the Week: Nick Thompson, defenseman, Bozeman Icedogs
Bozeman ran their winning streak to six straight games with two more wins over the weekend. Defenseman and leading scorer Nick Thompson, 18, had five points in the two wins as Bozeman picked up home wins over Helena and Great Falls. On Friday, the native os Esko, MN, had three assists and was +2 in a 5-2 win over the Bighorns. On Saturday, Thompson (6'4/195) had a goal and an assist in a 4-3 win over the Americans. Thompson's 30 points in just 18 games played leads all NA3HL defensemen in scoring by a wide margin. "Nick has been solid for us all season so far and is so consistent game to game. He controls the game in all zones on the rink. He has the most points for a defensemen in our league, but he is just as solid defensively and that makes for a pretty good hockey player," said Bozeman head coach Mark Vichorek.
2nd Star: Kyle Truax, F, Gillette Wild
Honorable Mention (alphabetical): Tanner Congdon, F, Great Falls Americans – Ryan Daugherty, F, Helena Bighorns – Mason Graves, F, Billings Bulls – Stephen Marshal Frank, G, Bozeman Icedogs – Gage Overby, G, Billings Bulls
Midwest Division Star of the Week: Dylan Schmidt, forward, Nashville Jr. Predators
Nashville Jr. Predators forward Dylan Schmidt, 19, had a good weekend to help the Jr. Predators to a weekend home split with the Atlanta Capitals from the South Division. The native of Sterling Heights, MI, had four points in the two games and was a +3. On Friday night, Schmidt (5'8/160) had an assist in a 4-3 loss and on Saturday he had two goals and set up the game-winner as the Jr. Predators picked up a 3-2 win. In 22 games played this season, Schmidt is 2nd on the team in scoring with 21 points. "Dylan is a player with great skill and sees the ice very well. He is a player who is always looking to set up his teammates for a scoring chance. I'm glad to see this past weekend that Dylan used his shot and it paid dividends to our team. As coaching staff we are very pleased with Dylan's development," said Nashville head coach Karlis Zirnis.
2nd Star: Kristers Petraskevis, F, Nashville Jr. Predators
Honorable Mention (alphabetical): None
South Division Star of the Week: Ryan Dunner, forward, Texas Jr. Brahmas
The Texas Jr. Brahmas took over the top spot in the South Division thanks to a three-game home sweep of the Louisiana Drillers this past weekend. Veteran forward Ryan Dunner, 19, had a big weekend, registering nine points and a +6 rating in the three wins, which included four goals and five assists. On Friday, the native of Glassboro, NJ, had two goals and an assist in a 7-1 win. The next night, he had four assists in a 7-1 win and on Sunday, he had two goals in a 10-0 win. His 37 points leads the Jr. Brahmas in scoring and ranks 4th in NA3HL scoring. "Ryan got off to a bit of a slow start this season, by his standards, but never wavered from his game and it's really paying off for himself and the team right now. His speed is unmatched for this league and more importantly, he can make plays at speed. When you combine his skill set, speed and shot it's often a lethal combination for our opponent. As a Coach I have fun sometimes just sitting back and watching him do his thing out there," said Texas head coach Al Rooney.
2nd Star: Brandon Perrone, G, Texas Jr. Brahmas
Honorable Mention (alphabetical): None
West Division Star of the Week: Luc Kreuser, forward, Twin City Steel
Although Twin City played just one game this past week, they made it count as they picked up a 4-3 road win in Granite City on Wedneday to briefly move past the Lumberjacks for 1st place in the West Division at the time. Forward Luc Kreuser, 18, chipped in two assists during the game. The 6'0/165 lbs. native of Wisconsin Rapids, WI, as also a +2 in the game and assisted on Twin City's first and third goals. Kreuser ranks 2nd on the team in scoring with 17 points in 18 games played. "Luc has been finding his offensive groove the last month and this last week he really turned it up. His smooth skating, great vision and silky hands has made watching him develop a lot of fun this season," said Steel head coach Jay Witta.
2nd Star: Mathew Sprink, F, Granite City Lumberjacks
Honorable Mention (alphabetical): Chase Di Bari, F, Granite City Lumberjacks - Jared Erickson, F, Twin City Steel