Metro defensemen Schwartz, Boskovic move up to NAHL
December 5, 2015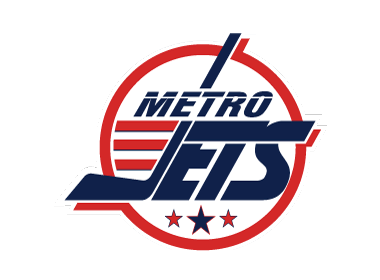 By Matt Mackinder, Metro Jets
Depth is always a key ingredient for successful junior hockey teams, especially in the North American 3 Hockey League.
The Metro Jets will test their depth for the foreseeable future as today, the team has announced that top-six defensemen Stefan Boskovic and Marc Schwartz have both been called up to play for the Aston Rebels of the North American Hockey League.
"Obviously, we are losing two big players for our club, but once again, this is what it's about," Jets coach-GM Justin Quenneville said. "Both are deserving and we wish them the best of luck. We strive to provide the most opportunistic program and I believe this continues to showcase our league's leading ways in advancement opportunities."
Already this season, the Jets have sent forwards Mathias Tellstrom (Kenai River Brown Bears) and Carter Woolley (Aston) and defenseman David Chavis II (Aston) up to NAHL clubs, while over the summer, forward Ryan Bloom was the lone NA3HL player selected in the NAHL Entry Draft and he's been with the Minnesota Wilderness all season.
In addition, Metro also moved forwards Alex Holm (NCAA Division III Finlandia University), Cody Jones (ACHA Adrian College) and Cooper McLean (ACHA Adrian College) and defensemen Tyler Layle (ACHA Aquinas College) to college programs for the 2015-16 season.
Two other players – forwards Pearce Vance (Aston) and Devin Kelly (Topeka RoadRunners) – signed NAHL tender agreements last offseason.
For Schwartz, a local Macomb, Mich., product who has tallied a goal and 10 assists for 11 points in 19 games, he's elated at the chance to prove himself in the NAHL.
"I'm expecting hard-fought games and I just need to make the right plays when the opportunities are there," said Schwartz, who turns 18 on Dec. 29. "The Jets have helped me to have more ice awareness and they helped me develop more skill. I'll need that at the next level."
Boskovic, who joined the Jets just about a month ago, has produced a goal and an assist in six games for Metro. A Serbia native, Boskovic was drafted by the Jets in last summer's NA3HL Draft.
"With Aston, I'm expecting higher-intensity games and the best way for me to make an impact is to adapt to the new level of hockey quickly and just play my game," Boskovic said. "To get this chance, the Jets have provided me with the means to improve, as well as exposure, and the coaches have helped me develop minor details that had a great impact on my game."
Both Schwartz and Boskovic are expected to be in the Rebels lineup tonight in Aston against the Wilkes-Barre/Scranton Knights at 7 p.m.