2015 NA3HL Showcase gets underway
December 17, 2015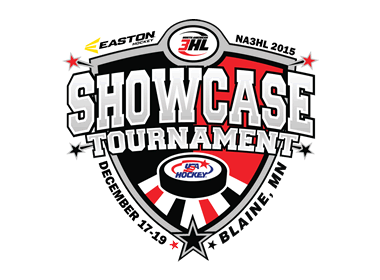 The 2015 NA3HL Showcase, presented by Easton Hockey, begins on Thursday, December 17th at the Schwan Super Rink in Blaine, MN.
This season marks the sixth straight year the NA3HL will hold a league-wide Showcase, which features some of the best junior talent in the United States.
Broadcast
: All games will be broadcast live on
FASTHockey
Thursday, December 17th schedule
THU, DEC 17 Chicago vs Cincinnati
THU, DEC 17 La Crosse vs Evansville
THU, DEC 17 :NA3EHL West vs Peoria
THU, DEC 17 Rochester vs St. Louis
THU, DEC 17 Wisconsin vs :NA3EHL East
THU, DEC 17 North Iowa vs Nashville
THU, DEC 17 Alexandria vs Metro
THU, DEC 17 Breezy Point vs Pittsburgh
THU, DEC 17 Minnesota vs Wooster
THU, DEC 17 Granite City vs Toledo
THU, DEC 17 Yellowstone vs Southern Tier
THU, DEC 17 Twin City vs West Michigan
THU, DEC 17 Atlanta vs Bozeman
THU, DEC 17 Louisiana vs Billings
THU, DEC 17 Euless vs Great Falls
THU, DEC 17 Sugar Land vs Glacier
THU, DEC 17 Point Mallard vs Gillette
THU, DEC 17 Texas vs Helena
Here is your complete guide to the event, in which each NA3HL team will play three regular season games against divisional crossover competition:
NA3EHL Top Prospect Teams: The NA3EHL is pleased to announce two Top Prospect teams that will compete and be a part of the 2015 NA3HL Showcase. The NA3EHL selected two teams that represent the East Division and the West Division to play in three games each during the annual event.
Venue
:
The Schwan Super Rink
is the largest ice arena of its kind in the world. The state-of-the-art facility, a $21 million project totaling over 300,000 square feet, features eight sheets of ice under one roof.
Schedule: All three games played at the Showcase are also part of the 2015-16 regular season schedule. The schedule was developed back in early August (all times are central).
Tickets: Passes for the event can be purchased at the door. Cash and major credit cards are accepted, but no checks. Tournament passes are $25.00 for adults, $15.00 for students/seniors and children 6 and under are free. Daily passes are also available. View all passes here.
Rental Cars
: The NA3HL is proud to partner with Avis and Budget for the Showcase and they have developed some special rates for this event.
Reserve your car or van today
.
Scouts: Scout passes are $35.00 for the entire event or $20 for the day. Scout packet includes a pass for entrance into the Schwan Super Rink for all three days of the event, access to the scout room, which will include catered food and beverage throughout the event, a tournament program and line charts for each game. All NAHL teams are required to have a scout at the event.
NAHL Central Scouting: NAHL Central Scouting will be in full swing for the NA3HL Showcase in Blaine. NAHL Central Scouting is lead by Craig Barnett, Coordinator of Player of Personnel for both the NA3HL and NA3EHL. Barnett's primary role is to coordinate the scouting at all events, and to promote player advancement and to supply information to NAHL, NCAA and other junior and collegiate coaches.
NCAA Education and Compliance Seminars: As an additional element to the program this season, an NCAA education and compliance seminar will be presented to all players, coaches and parents during the NA3HL Showcase. This will be the same presentation used in NAHL seminars and the focus will be on differences between NCAA Division I, Division III and ACHA, the breakdown of new NCAA I conference landscape, NCAA Initial Eligibility information including important new rules going into effect for 2016 and how future players will be affected, the recruiting process and how to market yourself. The seminars take place in the Grand Hall of the National Sports Center, right next to the Schwan Super Rink.
Thursday, December 17th
12:30pm: Chicago / Evansville / Rochester / Cincinnati / St. Louis / La Crosse / Peoria
4:15pm: Alexandria / Pittsburgh / Granite City / Breezy Point / Metro / Minnesota / Toledo / Wooster
7:00pm: Atlanta / Yellowstone / Louisiana / Twin City
Friday, December 18th
3:30pm: West Michigan / Southern Tier / Nashville / North Iowa / Bozeman / Wisconsin / NA3EHL West / Billings / *Euless / *Point Mallard / *Sugar Land / *Texas
6:15pm: Gillette / Helena / Glacier / Great Falls / NA3EHL East