Both NA3EHL teams fall on Day 1 of Showcase
December 18, 2015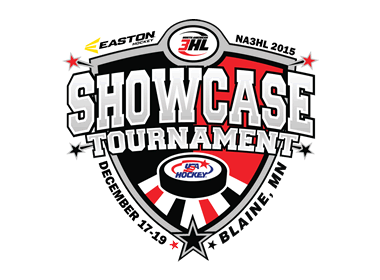 It was a tough first day for the NA3EHL top prospect teams at the NA3HL Showcase in Blaine. The West team fell 4-3 in a shootout to the Peoria Mustangs and the East team fell to Wisconsin, 10-1. Here are the game recaps:
Peoria 4 vs. NA3EHL West 3 (SO) – A valiant comeback by the NA3EHL West team fell short against the Mustangs, who triumphed in a shootout in a close game. After a scoreless 1st period, the Mustangs opened up a 3-0 lead with 2nd period goals from Jiri Trubacik and Levi Armstrong and a 3rd period goal from Aaron Siegrist. The NA3EHL West team stormed back with three goals in an eight minute span, which included tallies from Anthony DePetres (Roc City), Jared Karas (Jersey Shore) and Ryan Flanagan (Wilkes-Barre). In the shootout, Peoria's Andrej Buchko was the only man to score for either team to earn the Mustangs the win. Nic Piech made 25 saves in the win, while Stephen Mundinger (New York) made 18 saves in the loss.
Wisconsin 10 vs. NA3EHL East 1 – Ben Ratner had a five-point game, including a hat-trick to lead the Whalers to a convincing 10-1 over the NA3EHL East Top Prospects team. The game was close through one period with the Whalers holding down a 1-0 lead with a goal from Ratner. However, the Whalers opened the game up in the 2nd period with six goals including another from Ratner, two from Ben Henderson and others from Russel Barone, Austin Lewis and Matthew Carr. The NA3EHL East got their lone goal of the game in the period from Ryan Gauvin, who plays for the New England Stars. The Whalers added three more goals in the 3rd period including Ratner's third and others from Connor Busch and Nathan Viberg. Max McConnell made 31 saves in the win.