Fighting Falcons take flight in Port Huron
July 10, 2010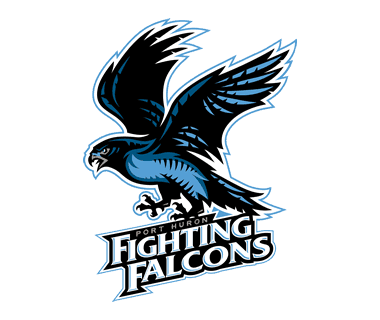 The Port Huron, Michigan, team that will begin play in the North American Hockey League (NAHL) this fall has announced its name and the unveiling of its logo.

The team will be called the Port Huron Fighting Falcons.

The name is inspired by the peregrine falcons that were born and live under Port Huron's Blue Water Bridge.

Maribeth Hayes, chief executive officer of Hat Trick Hockey, LLC, which owns the team, is an animal lover and was inspired by the falcons and the way they've been embraced by the community.

"My partner did a lot of research on Port Huron," Ernie Hicke, the team's coach and general manager, told Paul Costanzo of the Port Huron Times Herald. "She was reading the articles about the falcons being born underneath the bridge and fighting for their lives and how they were named after different people.

"We've been fighting for the last two or three months to get this franchise, and of course put it into Port Huron. Maribeth came up with the name, and we all thought it was fantastic."

Larry Smith, of Tag Sports Graphics, designed the logo.

A press conference introducing the Fighting Falcons will be held on Wednesday, July 14 at McMorran Place, the team's home facility. Those expected to attend include: NAHL commissioner Mark Frankenfeld; Port Huron Mayor Pauline Repp; city council members; McMorran Authority Board members; Paul Costanzo and Rick Jackaki, sports reporters from the Times Herald; local high school hockey coaches; and fans.

Hicke also credits Randy Fernandez, general manager of McMorran Place, for his efforts in bringing the NAHL to Port Huron.

"He was tremendous in helping us finalize our plans to make this team a reality," said Hicke.

For more information on the Fighting Falcons, visit PortHuronNAHL.com.