NA3EHL announces Easton Hockey Stars of the Week
January 12, 2016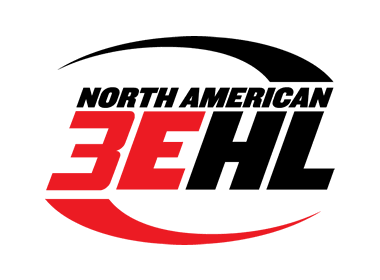 The North American 3 Eastern Hockey League (NA3EHL) today announced the Divisional Stars of the Week presented by Easton Hockey for the week ending January 10, 2016. The divisional stars of the week is an award given each week of the regular season to the top performing players in each of the two divisions of the NA3EHL as nominated by their head coaches.
East Division Star of the Week: Hunter Ledwith, forward, Skylands Kings
The Skylands Kings held steady in the East Division playoff race with a pair of road wins over the weekend against the East Coast Minutemen. Forward Hunter Ledwith, 19, had a huge weekend with seven points (3 goals, 4 assists) and a +5 rating in the two wins. On Friday, the native of Kinnelon, NJ, recorded two goals and two assists in a 6-3 win. On Saturday, he had a goal and two more assists in a 7-4 win. Ledwith currently is riding an eight-game point streak and ranks 2nd on the team with 53 points. His 26 goals leads the Kings in scoring and ranks 3rd overall in the NA3EHL. "Hunter had an outstanding weekend, helping the team to two wins. I look for Hunter to continue contributing at this level as the team makes a push for playoffs," said Skylands head coach Alex Shindelman.
2nd Star: Chris O'Donnell, F, Cape Cod Islanders
Honorable Mention (alphabetical): Aiden Critchlow, G, East Coast Minutemen – Cory Decosta, F, Skylands Kings – Ryan Gauvin, F, New England Stars – Mike Jessman, F, Cape Cod Islanders – Mason Smith, F, East Coast Minutemen
West Division Star of the Week: Sal Stalteri, goaltender, Lockport Express
Lockport goalie Sal Stalteri, 20, was incredibly busy over the weekend in the weekend road series against the New York Aviators. The native of Woodbridge, ON, helped his club to a weekend split and in the process faced 113 shots in the two games. Out of those 113 shots, Stalteri (5'10/175) made 106 saves, which was good for a 94% save percentage during the series. That included 47 saves in a 4-2 win on Saturday and 59 saves in a 5-1 loss on Sunday. Thanks to his big effort over the weekend, Stalteri brought his season-long save percentage up to 90%. "Sal seems to have really gotten a bit more comfortable here as the season has gone along. The first game back from break against Roc City was a bit rough, but frankly, both teams looked rusty from the Holiday break. We have made some roster moves that seem to have help solidify our team and we are playing better in front of our goalies as well. Sal had an excellent game in New York and we are going to need that kind of goalie play these last dozen games or so to make a hard playoff push," said Lockport head coach Frank Vecchio.
2nd Star: Zach Roth, D, Jersey Shore Wildcats
Honorable Mention (alphabetical): Justin Andriaccio, F, Lockport Express – Scott Hansen, D, Jersey Shore Wildcats – Raymond Rowe, D, Syracuse Stampede – Nate Walker, F, Syracuse Stampede