Jets roll to 11-1 win on Wednesday over Wolves
January 13, 2016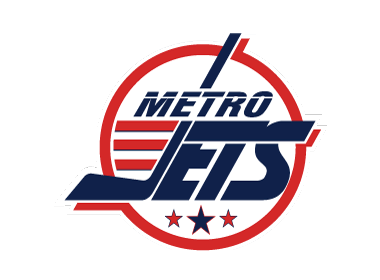 Metro 11 @ West Michigan 1 - The Metro Jets jumped out to a 3-0 lead just over seven minutes into the first period and never looked back, defeating the West Michigan Wolves 11-1 Wednesday night at The Rink.
Metro's top line did most of the damage as Mathias Tellstrom recorded three goals and three assists, Kevin Shand two goals and three assists and Michael Tratar a goal and four helpers.
Kam Limburg finished with 32 saves between the pipes for the Jets.
"Not your typical East Division game tonight, but we got contributions from everyone tonight, which is always good to see," said Metro coach-GM Justin Quenneville. "Kam did a good job making saves when he was tested and 'Trats,' Shand and 'Telly' were big again tonight. You expect the Wolves to be better Saturday, so we will take the two points and get ready for Saturday."
David Chavis II, Chase Sereno and Chas Distelrath each posted a goal and an assist, while Cam Schwartz and Devin Kelly scored one apiece as Metro went 3-for-9 on the power play.
"Overall, it was a great night," Schwartz said. "All lines were playing great. We all saw the ice pretty well and had some great passing out there. Kam played great when we needed him to. This win felt great and the boys were happy the way this game turned out. We can't expect to get a win like this Saturday, though. Being focused during practice is going to be our No. 1 priority and coming out strong Saturday is another thing we're trying to accomplish."
Dylan Naumovski and Jacob Drinkard added two assists each.
Brendon Block netted West Michigan's lone goal on a second period power play and Sam Woznicki and Corbin Moore combined to make 42 saves in the Wolves' net. (story by Matt Mackinder)