Lefevre to take over Stampede coaching duties in 2016-17
January 21, 2016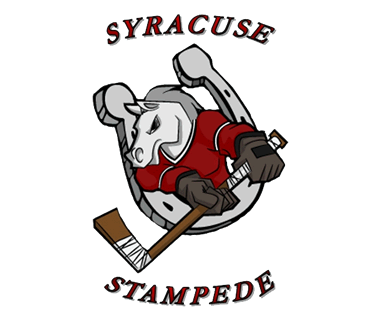 The Syracuse Stampede of the NA3EHL are pleased to announce that Jason Lefevre will take over the head coaching duties beginning in the 2016-17 season. Lefevre, a former Colgate University player and assistant, has been with the Stampede part-time during this season and will take the helm as head coach in the next few months.
Lefevre, a native of Rome, NY, resides with his wife Lindsey in Earlville, NY. He left Colgate last season to take a job in the private sector but remained active in player development and coaching.
Mike Beavis, who has coached the team for the past five seasons is excited in the direction the team is headed. "I have been at it a very long time. It can be very stressful not only coaching the team but running the program and just dealing with the day to day aspects of the business." Beavis also stated that adding Lefevre as head coach will allow him to further expand the program and work outside the rink as well.
The Stampede will definitely benefit from Lefevre's coaching experience. Since graduating from Colgate in 2002, Lefevre spent one season as an assistant coach with NCAA D-lll Utica College before joining Colgate's staff for nine seasons. He was instrumental in recruiting and developing players that led Colgate to two ECAC championship games (2013/14 and 2014/15) and a NCAA bid during the 2013/14 season.
Lefevre is already busy assembling next season's team as recruiting is well under way. "This is a great opportunity to work with some younger players and help promote them to the next level. My passion is in development and team dynamics. A team that works hard together succeeds on and off the ice." added Lefevre.
"Recruiting college players for the past 10 years has shown me what attributes makes a player valuable to a Division I or III team. I will use this experience to help my players showcase themselves to colleges and universities at the Junior A level."
The staff of the Stampede are not only gearing up for next season but also trying to secure a playoff spot within the league with the hopes of making a huge run at the Championship in March.