NA3EHL announces Easton Hockey Stars of the Week
January 26, 2016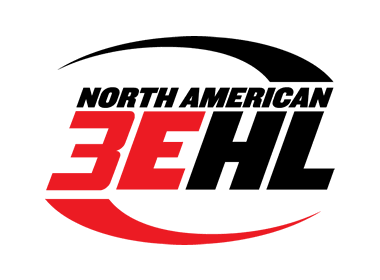 The North American 3 Eastern Hockey League (NA3EHL) today announced the Divisional Stars of the Week presented by Easton Hockey for the week ending January 24, 2016. The divisional stars of the week is an award given each week of the regular season to the top performing players in each of the two divisions of the NA3EHL as nominated by their head coaches.
East Division Star of the Week: Mason Smith, forward, East Coast Minutemen
East Coast Minutemen forward Mason Smith, 20, had a good weekend for his club, which split a pair of weekend games against Maine and New England. The native of Bryan, TX, had four points (2 goals, 2 assists) and was a +2 in the weekend games. On Saturday, Smith (5'10/190) scored a goal and added two assists in a 7-4 win over the Maine Wild. On Sunday, he recorded one of two East Coast goals in a 7-2 loss against New England. For the season, Smith leads the Minutemen in scoring with 34 points in 33 games played. He also played on the NA3EHL East prospects team earlier in the season. "Mason is a skilled player who had a slow start with a lot of frustration. He's worked hard to get through it and it's paying off for him now with the points he's putting up and the schools that are showing interest in him now. It's good to see him playing to his potential and getting opportunities," said Minutemen head coach Neil Liston.
2nd Star: Brandon Hamner, F, New England Stars
Honorable Mention (alphabetical): Chuck Costello, F, Cape Cod Islanders – Maxime Dordet, F, Cape Cod Islanders – Devyn Levesque, G, New England Stars – Jacob Lilledahl, F, East Coast Minutemen
West Division Star of the Week: Anthony DePetres, forward, Roc City Royals
Roc City Royals forward Anthony DePetres, 20, added to his point totals over the weekend as the Royals held steady in the race for a playoff spot in the West Division with a road sweep of the Syracuse Stampede. The native of Rochester, NY, had seven points (2 goals, 5 assists) and was +6 in the two wins. On Friday, DePetres (5'7/175) had two goals and two assists in a 6-4 win and on Saturday, he had three assists in a 7-1 win. For the season, DePetres not only leads the Royals in scoring, but his 68 points is currently tops in all of the NA3EHL. "Anthony is a ferocious competitor. He's really fine-tuned his game this year and he is a very disciplined leader," said Roc City head coach Tom Donnelly.
2nd Star: Ian Stahl, G, Roc City Royals
Honorable Mention (alphabetical): Bogdan Khuvatov, D, Jersey Shore Wildcats