New York putting up fight for top spot in the West
February 14, 2016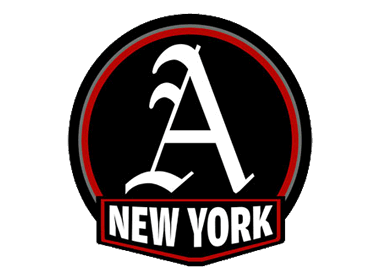 New York Aviators 5 vs. Jersey Shore Wildcats 2 - New York's Dominick Sacco had a big offensive game, scoring three goals and two assists in his team's 5-3 win over Jersey Shore. Sacco scored on the power play at 16:06 into the second period to make the score 2-0 New York, and then again at 6:28 and 16:25 in the third to make the score 4-0 New York. Other scorers from New York were Daniel Backstrom with one goal and two assists, Jimmy Warrick with one goal and two assists, and Robert Kalata, Stephen Mundinger and Philip Garcia with one assist a piece. Goal scorers for Jersey Shore were Christian Cooley and Jared Karas, while Cooley, Alexander Tan, and Frederic Ampleman each tallied an assist. Mundinger tallied 29 saves on 31 shots for New York, and Scott Albertoni had 12 saves on 17 shots for Jersey Shore.
Cape Cod Islanders 5 vs. Skylands Kings 3 - Skylands tried to dig itself out of a four goal hole, but Cape Cod held on for a 5-3 victory. Cape Cod made the score 4-1 on a goal by Dan Moore at 15:52 in the second period, and Skylands got close as 4-2 when Hunter Ledwith scored at 7:45 into the third period. Cape Cod got the win on the strength of a great game by Moore, who had one goal and two assists. Cape Cod's offense rang up 45 shots on Skylands' net. Cape Cod additionally got points from Eric Szeker, who also had one goal and one assist. Cape Cod also had goals score by Steven Matthews, Maxime Dordet, and Brendan Sullivan, who each put in one. Zack Goodman, Mike Jessman, Chris O'Donnell and Joe Brennan each contributed one assist for Cape Cod. Skylands' was helped by Alex Linquito, who registered one goal. Linquito scored 16:47 into the third period to make the score 5-3 Cape Cod. Ledwith picked up the assist, as well as one goal and an additional assist to lead Skylands in points. Skylands additionally got a goal from Mike King. More assists for Skylands came via Cole Skelly, Nicholas King, and Alec Sanchez, who each had one. Steven Schmidt recorded 23 saves for Cape Cod, while Skylands' Ryan Bartholomew stopped 40 of the 45 shots he faced.
Syracuse Stampede 9 vs. Roc City Royals 8 (1-0 SO) - Three periods of regulation and an overtime session were not enough to settle matters as Syracuse defeated Roc City in a shootout, which took 5 rounds to complete. Syracuse overcame a two-goal deficit to capture the victory, being down 2-0 after a power play goal by Roc City's Anthony DePetres at 17:32 in the first period. Syracuse tied things up at 8 on a power play goal by Raymond Rowe at 13:01 in the third period. Syracuse kept Roc City's goalie busy, and Patrick Massey made 41 saves on 50 shots. Syracuse was led by Hunter Soden, who finished the game with three goals and one assist. Syracuse additionally received points from Ryan Gilroy and Nicholas Chalifoux ,who each had one goal and one assist, Nate Walker, who racked up one goal and two assists, Christian Paradiso with one goal, Tucker Bartenslager, who tallied three assists, and Kelsey Head, Dan Buehler, and Rocco DeRollo, who contributed one assist each. Syracuse was unable to stop Roc City from sending pucks towards the net, and Roc City eventually piled up 51 shots on goal. Roc City was helped by Justin Allen, who finished with three goals and one assist. Roc City also received points from Cameron Clark, who had one goal and one assist, Matt Corey, who led the team in points with one goal and four assists, DePetres, who racked up one goal and one assist, Cory Della Stua who scored one goal, Aidann Conolly and Sam Haile, who tallied one assist each, and Robert Vasta and Sam Cammilleri, who had two assists a piece. Kyle VanWagner rejected 43 shots on goal for Syracuse.
Lockport Express 4 vs. Wilkes Barre Miners 1 - Lockport's Frank II Vecchio had a big offensive game, scoring two goals and contributing one assist in his team's 4-1 win over Wilkes-Barre. Vecchio scored on the power play at 9:32 in the first period to make the score 1-0 Lockport, and then again at 11:16 in the second to make the score 4-0 Lockport. Wilkes-Barre was unable to stop Lockport from sending pucks toward the net, and Lockport piled up 33 shots on goal. Lockport also had goals scored by Anthony Tomassi and Andrew Logar, who each tallied one. Justin Andriaccio, Brendan McFall, and Dylan Jenkins each contributed one assist, while Gibson Stuart and Frank Bodami each had two. Sam Fitzpatrick recorded 22 saves for Lockport, while Mathieu Beaudet made 29 saves for Wilkes Barre on 33 shots.
L/A Fighting Spirit 7 vs. East Coast Minutemen 1 - Lewiston/Auburn had 6 different goal scorers in their 7-1 win over East Coast. Brett Bittner, Dylan Vrees, Linder Kenyon, Casey Labonte, Clay Janowiak each tallied one, while Walker Hamilton had two goals, one at 19:23 in the second period to make the score 6-0 L/A, and one power play goal at 18:08 in the third to make the score 7-1 L/A. Vrees and Mark Ferullo each had one assist, while Austin Siering, Labonte, David Fish, and Thomas Puetz had two assists a piece. The lone goal for East coast was scored by Matt Bauchman on the power play, and was assisted by Kyler Harding. Aidan Critchlow totaled 15 saves on 20 shots, and Timothy Huggins saved 16 of 18 shots faced for East Coast. For L/A, Claes Endre made 14 of the 15 shots he faced.
Northeast Generals 5 vs. Maine Wild 2 - It was a tight 60 minutes of play for these two teams, but an empty netter by Derric Trudeau secured a 5-3 win over the Maine Wild. Trudeau also tallied two assists in the match. Other scorers for Northeast were Tim Rheault, and Adam Carvalho, who netted one a piece, and Alex O'Dowd, who scored twice. Carvalho, Zachary Needham, and Brendan Collins each had one assist for Northeast, while Zachary Smith and O'Dowd each netted two. For Maine, Greg Terlov and Noel Fischer had one goal a piece. Fischer and Terlov also racked up one assist each, while Jordy Knoren had two assists for the Maine Wild. Brendan Daigle had 43 saves on 47 shots for Maine, and Trevor Trudeau stopped 40 of 42 shots for Northeast.