Syracuse captains Rowe makes lasting impact
February 23, 2016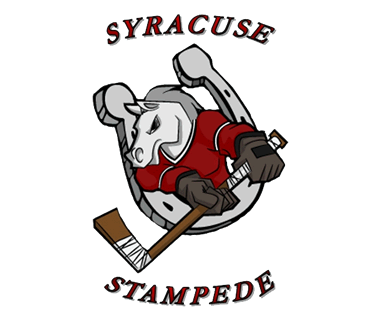 Who is Raymond "Manny" Rowe? He is the Syracuse Stampede's Heart and Soul. Leader, friend, teammate and all around good guy.
Manny came to the Stampede this season as a 20-year-old player that had all the tools, a great work ethic and the drive to succeed. Rowe from Phoenix, AZ was a natural leader from the start of the season according to Stampede Coach Mike Beavis. "Manny took ownership of his role and embraced it daily this year, he has been a true leader and hopefully his hard work will pay off," stated Beavis.
Rowe had some interest from NCAA Division III schools this season, but is very much hoping to land a spot with The University of Arizona Wildcats ACHA Division I in the upcoming weeks. "For Manny it's close to home and his mom will be able to come to his games and I know that is huge for him. When I asked him about the possible opportunity there you could see it in his eyes that this is where he would go if chosen to do so," added Beavis.
But who is Manny Rowe really? "I want to share an email I received this evening after our three game weekend in Roc City," Beavis said.
Here is the email that Coach Beavis received:
Hello Coach Beavis-
My name is Julie Haile. Our son Sam plays for the Roc City Royals (#80 - D). First I want to say that watching the teams play the last 2 weekends have been fun. Games have been up, down and everywhere in between.
Secondly, I just wanted to let you know what a class act I think your Captain, Raymond Rowe is. Watching him with his teammates, especially as they take the ice (love all the unique and individual handshakes) it is obvious that he is a well-liked and respected leader. What impressed me the most was how good he was to our son Sam. Sam is only 17 years old and made the jump to Juniors this year. It has been a season of adjustments and eye opening experiences. Ray and Sam made a connection last weekend on the ice, which led to Sam following him on some sort of social media during the week. This weekend rolled around and Ray took the time to acknowledge Sam and I noticed at the end of each game he made a point of shaking hands and saying a few words to him. As you know those types of interactions between a senior player and a rookie are few and far between and mean the world to the rookie.
Captains sometimes get taken for granted because they are always expected to be the leader or be the bigger person, but what Ray did for Sam this weekend was not that. It was easily seen from the stands and especially this hockey mom that Ray has something special to his character. I do not know what the future holds for him, but the world of hockey can never have enough people like him as a part of it. His character will do him well in all aspects of his life. Our best wishes to him.
Best of luck to you and your team with the tail end of the season and tryouts.
Julie
"As a coach in junior hockey for almost 30 years, I try to get players to realize that relationships, sportsmanship and the bond of hockey players is very special. I preach discipline and composure on a daily basis. My players see me interact with other teams players and know that I try and help them as well as my own when possible. Manny Rowe is a player that shares these values, I see that each and every day. Manny has a work ethic that I have not seen in a long time and is a natural leader that will for certain become something special in his lifetime. (Possibly a very successful coach in the years to come)," stated Coach Beavis
The world of Hockey need more players like Raymond Rowe and hopefully the impact he has made on his teammates as well other teams players that he has met throughout his years will carry his character forward and share it with others along their way.
"That is who Raymond "Manny" Rowe is and it has been my pleasure to have him as my Captain this season," said Beavis.