Gongshow Flow of the Month winner for Flowbruary announced
March 1, 2016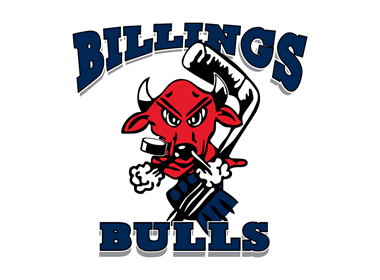 'Flowbruary' has officially come to an end and the month provided us with several great flows to choose from. The season is six months old and entering the final stages of the regular season, which transitions us into March when everyone starts thinking about playoffs.
February was a true testimony to see just how far players across the land have come with the development of their flow.
With that said, the North American 3 Hockey League (NA3HL) announced its GONGSHOW Flow of the Month winner for February 2016.
The winner this month is forward Mason Graves from the Billings Bulls.
Graves, 20, is a great ladder of development story and a player that is having a very good first season in the NA3HL. The native of Fairbanks, Alaska, is 2nd on the Bulls roster in scoring with 34 points in 43 games played this season. His 26 assists are tops on the team. Prior to playing in the NA3HL for the Bulls this season, Graves (5'7/165) played the two previous years in the NAPHL, which included the West Michigan Hounds in the 2014-15 season and the California Titans in the 2013-14 season.
Graves has pulled out one of the best flows we have seen to date and has topped it off with complete facial beard.
First the flow… Graves goes with the classic long flow look with hair that is now bordering on covering his nameplate because it has become so lengthy. There is no fancy-pants styling with this hair, just basic and simple long flow. Take a brush, run it through your salad a few times and you have got yourself a memorable flow.
Then we move onto the beard, which has progressing throughout the season. It is full scruff-city with Graves and the face flow. Just nice and dirty complete with handlebar biker mustache. Whether you are playing hockey in Billings, Montana, or Graves' hometown of Fairbanks, Alaska, you are going to need some facial and cranial protection and style and both are accomplished with this masterpiece that Graves has strung together.
The ladder of development not only includes the progress on the ice, but obviously Graves has learned a thing or two on how to properly grow the flow! Congrats Mason… and for his effort, he will be receiving a GONGSHOW Gear hat.
For the fifth season in a row, GONGSHOW is the exclusive sponsor of the Flow of the Month promotion exclusively on the NA3HL and GONGSHOW Twitter sites
@NA3HL
and
@GONGSHOWGEAR
.
Fans and players alike are encouraged to submit photos of their best 'hockey hair' or 'flow' via Twitter by the end of every month during the regular season.
To enter the final contest of the year for the month of March, submit your best #FlowoftheMonth pictures by March 31st to
@NA3HL
and
@GONGSHOWGEAR
. Two winners will be selected in the beginning of April. Winners will receive a GONGSHOW Gear hat.