NA3EHL announces Easton Hockey Stars of the Week
March 8, 2016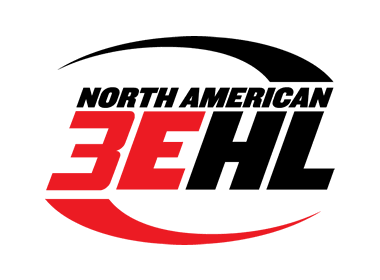 The North American 3 Eastern Hockey League (NA3EHL) today announced the Divisional Stars of the Week presented by Easton Hockey for the week ending March 6, 2016. The divisional stars of the week is an award given each week of the regular season to the top performing players in each of the two divisions of the NA3EHL as nominated by their head coaches.
East Division Star of the Week: Dylan Vrees, forward, L/A Fighting Spirit
For the second week in a row, L/A Fighting Spirit forward Dylan Vrees, 20, has been named the NA3EHL's East Division Star of the Week. The native of Plaistow, NH, had a big weekend to lead his team to two more wins and secure the #2 seed for playoffs in the East Division. In two wins, Vrees (5'10/180) had six points and was a +5. On Saturday, Vrees had a goal and an assist in a 4-1 win in New England against the Stars. On Sunday, he had a hat-trick and an assist as the Fighting Spirit finished the regular season with a 9-3 win over the East Coast Minutemen. Vrees led the Fighting Spirit in scoring during the 2015-16 regular season with 63 points in 38 games played. "Dylan is an offensive threat for every opponent. He has great stick skills that allow him to be dangerous offensively in any situation. His skill set and willingness to contribute offensively are noticeable every game," said Fighting Spirit head coach Rod Simmons.
2nd Star: Robbie Campbell, G, New England Stars
Honorable Mention (alphabetical): James Brosnan, F, Cape Cod Islanders – Anthony Gianelli, F, Cape Cod Islanders – Matt Moreschi, F, East Coast Minutemen – Kyle Weiss, F, New England Stars
West Division Star of the Week: Jimmy Warrick, forward, New York Aviators
Thanks to eight points in his final two games of the regular season, New York forward Jimmy Warrick, 20, finished as the NA3EHL's scoring champion for the 2015-16 season with 99 points in 44 games played. This past weekend, the native of Chicago, IL, had five goals, three assists and a +11 rating in a home-and-home sweep of the Skylands Kings. On Saturday, Warrick (5'7/180) had a hat-trick and two assists in a 12-6 win. On Sunday, he added two more goals and an assist in a 5-3 win. Warrick's 39 goals ranked 2nd in the league this season and his 60 assists ranked 3rd. "We are all very happy that Jimmy has been able to receive this honor to cap off his junior career. His game has elevated over the past few games and we are looking forward to seeing what he does in the playoffs," said New York head coach Mike Stanaway.
2nd Star: Daniel Backstrom, F, New York Aviators
Honorable Mention (alphabetical): Brandon Corey, F, Roc City Royals – Tim Evans, G, Syracuse Stampede – Ryan Flanagan, F, Wilkes-Barre Miners - Jordan Pocobello, F, Lockport Express – Raymond Rowe, D, Syracuse Stampede – Gibson Stuart, D, Lockport Express – Travis Valvo, F, Jersey Shore Wildcats