Point Mallard forward Clark makes NCAA commitment
May 2, 2016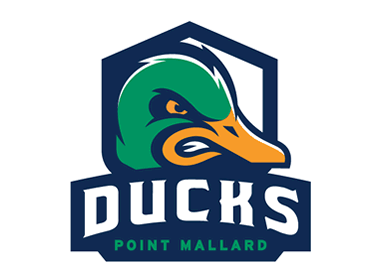 The Point Mallard Ducks, proud members of the NA3HL, are pleased to announce that forward Justin Clark has committed to play NCAA Division III hockey at Stevenson University for the 2016-17 school year.
This will be the inaugural season for the Mustang program, which will compete in the Eastern Collegiate Athletic Conference (ECAC), West division.
"We are extremely excited for Justin as he has earned this fantastic opportunity," stated Ducks GM/Head Coach, Tom Winkler. "Justin came in this season determined to create a college hockey opportunity for himself. He was committed and up to that challenge every day. Justin is a strong power forward who creates a great deal of space when he is on the ice, he has a powerful shot, plays physical, and has a great knack for scoring timely goals. He is going to be a cornerstone for Stevenson as they build their program. Again, we are extremely proud of Justin," added Winkler.
In the 2015-16 season, Clark played in 54 games and scored 26 goals, 14 assists for 40 points. He had a plus-14 rating to go along with 68 penalty minutes. Clark was a member of the Ducks in their inaugural season, a year in which he posted 7 goals, 11 assists for 18 points, he was plus-7 and had 71 penalty minutes.
Clark was a key element in the Ducks 2015-2016 South Division regular season and playoff championships. In the 2016 Silver Cup tournament, Clark scored the winning goal against the Yellowstone Quake in pool play.