Metro defenseman Chavis makes NCAA commitment
May 3, 2016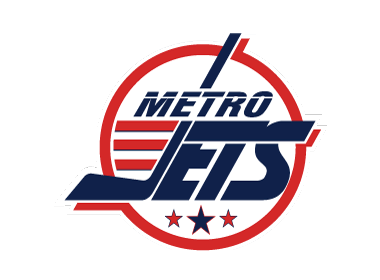 By Matt Mackinder, Metro Jets
David Chavis is the perfect example of what happens when you believe in the system.
A two-year defenseman for the NA3HL's Metro Jets after a full season in the NAHL with the Odessa Jackalopes in 2013-14, Chavis had other NAHL options for this past season, but chose to stay with the Jets and hone his craft to prepare for the college game.
That dedication and choice has now paid off for the 21-year-old Grosse Pointe, Mich., native as Chavis will play NCAA Division III hockey this fall for St. Mary's University, a school in the MIAC conference and located in Winona, Minn.
"I actually talked to them towards the end of my first season with the Jets and Coach (Bill) Moore had expressed interest in me then, but I decided that another year of juniors was going to be best for me," said Chavis. "I kept in contact with the St. Mary's coaching staff and when going to SMU was still an option after this season, it felt like the right place for me."
Chavis is the third Jets player from 2015-16 to make a D-III commitment, following forward Kevin Shand, who committed to the Milwaukee School of Engineering (NCHA) last week, and defenseman Jake Rutkoske, who chose Northland College (NCHA) back in February.
Forward Spencer Graham (Aquinas College) and goaltender Trevor Kalinowski (Adrian College) also made ACHA college choices this offseason.
"Obviously, I have to thank my parents because without them and their support, I wouldn't be playing hockey – they've been there since Day 1," Chavis said. "I have to thank 'Q' (Jets coach-GM Justin Quenneville) and (assistant coach) Jamie Lovell, as well as Coach Randy (Wilson) for really elevating my game. They've taught me so much in hockey and about life outside the rink in such a short span of time. I'll always be grateful for the knowledge and opportunities the Metro Jets organization has given me. I also want to thank coaches Craig Sarner and Greg Gatto of the Odessa Jackalopes organization."
For Chavis, who captained the Jets in 2014-15 and had NAHL stints with the Minnesota Wilderness and Aston Rebels the past two seasons, he said playing for Quenneville had the most impact on his overall development.
"The last two years meant everything to me, not only as a hockey player, but as a person," boasted Chavis. "I've grown so much on and off the ice thanks to this organization as well as all my teammates. There's been so many special moments for me over the last two years with the Metro Jets, but truthfully, my most memorable moments aren't the Silver Cup runs or the Top Prospect Tournaments, they're the times spent on the bus or in the locker room with the boys.
"Those memories that we shared as a team are the times I'll always remember and I'll miss the most."
Quenneville said replacing a big body (6-foot-4, 205 pounds) on the back end, as well as an intelligent player in Chavis won't be an easy task.
"Losing a player of David's caliber is always difficult, but at the end of the day, he came here with the right mindset and put in the work to achieve his ultimate goal of playing NCAA hockey," said Quenneville. "He is a true leader in every sense of the way and now will bring his abilities to St. Mary's. On the ice, there is a reason why so many schools wanted his services. He is big, strong, is a very good defender and plays hard in all three zones. Creating interest in David was one of the easy jobs because he sold himself so professionally on and off the ice.
"We wish David nothing but the best of luck at SMU."
Each season with the Jets, Chavis totaled 26 points and finished with a plus-39 rating. In 2014-15, he scored eight goals and added 18 assists, while this past year, rang up nine goals and 17 assists. He also had 41 penalty minutes this year and 40 last season.
How's that for consistency?
Now moving forward and getting back into the academic mindset, Chavis said he's looking to go into a pre-medicine program and maybe taking a few political science courses, too.
"As a freshman coming into college next fall, my job is to work this offseason so I can contribute and do what it takes to help the team succeed next season," said Chavis. "Jumping to the next level of hockey is always challenging, but it's something I'm going to take in stride and make the most of my opportunities."
And down the road, Chavis has already started to explore those options as well.
"I see myself graduating with a degree after four great years of college hockey at St. Mary's University and then after that, I can't imagine," Chavis said. "Maybe there will be pro hockey opportunities at some point, but the most important thing for me is getting my education, my degree, and eventually going on to medical school."