Bozeman duo of Couture and Frank make NCAA commitments
May 13, 2016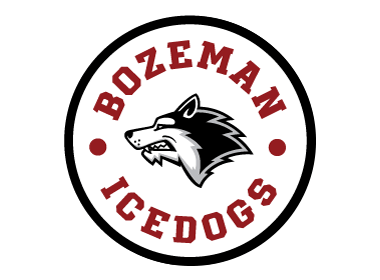 The Bozeman Icedogs of the NA3HL are pleased to announce that forward Kegan Couture and goaltender Stephen Frank have both committed to play NCAA Division III hockey for Gustavus Adolphus, a member of the Minnesota Intercollegiate Athletic Conference (MIAC).
Couture, 20 played three years in Bozeman and became the all time points leader in team history with 59 goals and 122 assists for 181 points. Kegan was the Captain for the Icedogs this past season and was the team MVP and scoring leader with 76 points. (28 goals, 48 assists) and a +20 rating. He also played in the 2016 NA3HL Top Prospects Tournament for the Frontier Division team.
Frank, 20, also played for the Frontier Division team at the NA3HL Top Prospects Tournament this season. He was named to the All-NA3HL 2nd Team and also named the NA3HL Frontier Division Goaltender of the Year. Frank posted a 22-8-6 record during the 2015-16 season, with a 92.8% save percentage and a 2.40 goals against average. He was named the Frontier Division Star of the Week back on November 24, 2015.
Couture had this to say about committing to Gustavus Adolphus… "It has always been a goal of mine to play NCAA hockey and that has come true. I had a few opportunities of where to play but Gustavus was the best fit for me. They have a good coach and very good facilities and a track record of moving players into their communities with a great education and opportunities to even play pro hockey. It is hard for anyone to ask for more than that. I also want to thank Coach Vichorek and the Icedog organization for doing everything he said he would to help me play at the collegiate level. I am glad I chose Bozeman as it is a great place to play and I was treated so well I would encourage anyone and everyone to play there."
"Kegan earned this opportunity to play at the NCAA college level. He was always committed on and off the ice and worked hard to achieve one of his goals. I am very proud of him and congratulations to him and his family as this is a big honor for them as well. Kegan will be extremely hard to replace as a player and as a person. The Icedog organization would also like to thank Kegan for his time with us and will be tracking how he does in the future," said Coach Vichorek.
"Stephen was so good in net for us this year and has helped in our success. He is very confident and has the confidence of our team behind him knowing every time he plays we have a chance to be successful. One of his goals was to be one of the best goalies in our League and he showed that," said Bozeman head coach Mark Vichorek.