48 in 24 Series: Billings Bulls
August 11, 2016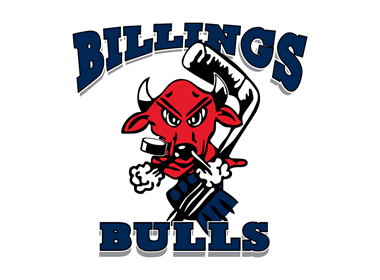 The 48 in 24 series will feature an in-depth look into all 48 teams in the NA3HL for the 2016-17 season, with new teams being highlighted daily, leading all the way up until the start of the regular season. 48 in 24 goes in-depth into each NA3HL team and will include interviews with all 48 head coaches in the NA3HL, as they provide fans with their expectations and outlook for the 2016-17 season, including taking a look at their potential roster and their strengths as a team for the upcoming season. It will also take a look back on the 2015-16 season and how each team fared and what they accomplished. Best of all, 48 in 24 will provide the fans of the NA3HL with an inside look at their favorite team and what to expect.
Billings Bulls
2015-16 Record: 9-32-6, 24 pts. (6th in Frontier Division)
2015-16 Playoffs: Did not make the playoffs
Head Coach: Michael Richardson
2016-17 Division: Frontier
The Billings Bulls had a re-building year in the 2015-16 season under 2nd year head coach, Michael Richardson. Richardson is a very familiar face in the NAHL family as he has previously served as a coach in the NAHL, NAPHL and NA3HL.
"Last year was a re-building year for us as an organization, from top to bottom. Overall, I thought it was a really good year, especially for us on the ice the second half of the year, as we were able to compete on a nightly basis and start winning some hockey games was great for us heading into the off season. I think we as an organization learned a lot of what the word compete means. This is an every day league, if you don't bring your 'A' game, you will not have a chance to win, doesn't matter who you are playing," said Coach Richardson.
Hoping for a better 2016-17 season, Richardson is putting an emphasis on puck movement for developing his team. However, puck movement is not the only thing on his mind for advancing his players to the next level.
"We currently have a few players attending training camps for teams in the NAHL, including Zach Heiser, who had a great rookie year for us last year. At the end of the day, the purpose for the league is to give players a chance to play in an atmosphere that will develop and advance them to college hockey, rather it be directly from the NA3HL, or getting a chance to make a team in the NAHL, we want our young men to get to college."
The Bulls did not have any college commitments in the 2015-16, but Richardson has plans for how he is going to turn this season around from last season, and get his players ready to compete at a level he knows they can get to.
"Compete and get better every day. Take it one day at a time and strive to continue to get better. Yes, we want to compete for a Silver Cup, but we won't win that in September. We want to make sure our training camp is top notch, then each game focus on getting better and winning that game."
The Bulls have a lot of community support as well, being an organization in Billings for the last 24 years. The players read at local schools, and give back with their local youth hockey in the Billings Amateur Hockey League.
Richardson said: "We are lucky with our front office staff who do a great job getting our players and coaches into the community."
Next up in the 48 in 24 series: Binghamton Jr. Senators