48 in 24 Series: Binghamton Junior Senators
August 11, 2016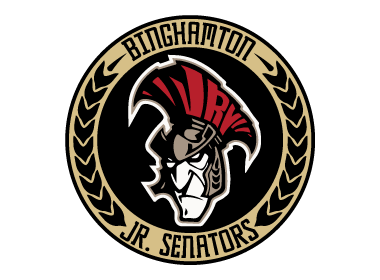 The 48 in 24 series will feature an in-depth look into all 48 teams in the NA3HL for the 2016-17 season, with new teams being highlighted daily, leading all the way up until the start of the regular season. 48 in 24 goes in-depth into each NA3HL team and will include interviews with all 48 head coaches in the NA3HL, as they provide fans with their expectations and outlook for the 2016-17 season, including taking a look at their potential roster and their strengths as a team for the upcoming season. It will also take a look back on the 2015-16 season and how each team fared and what they accomplished. Best of all, 48 in 24 will provide the fans of the NA3HL with an inside look at their favorite team and what to expect.
Binghamton Junior Senators
2015-16 Record: 10-34-0, 20 pts. (6th in West Division) (as Wilkes-Barre Miners)
2015-16 Playoffs: Did not qualify (as Wilkes-Barre Miners)
Head Coach: Chris Laganiere
2016-17 Division: Northeast
This will be the Binghamton Junior Senators, previously known as the Wilkes-Barre Miners, first season in the NA3HL. With the NA3EHL merging with the NA3HL in the off-season, Wilkes-Barre relocated, renamed, and is now going to compete in the Northeast Division as the Binghamton Junior Senators with hopes of starting fresh and making a name for themselves.
This will be Chris Laganiere's first year as a Head Coach. Laganiere played in the CCHL for the Brockville Braves, Hawkesbury Hawks, and Pembroke Lumberkings. He is a two-time Fred Page Cup winner and MVP along with two- time Royal Bank Cup participant. He was also named 2011 Oswego State Outstanding Male Athlete, First Team All-SUNYAC, Oswego State 100 Point Club and two-time Frozen Four participant. With his background of hockey, Laganiere should have no problem adjusting to the coaching lifestyle.
Laganiere's main points of emphasis on building a team for this year is to simply have the boys ready and willing to work. "I want the boys to be willing to work, hard working, and have a team oriented approach. They just need to have the style of hockey we are looking for."
When asked about his thoughts on last season, Binghamton owner Ray Welsh said, "It was tough, we had two prior successful seasons so I thought we would go into the 2015-16 season strong right from the start but we didn't, and we continued to struggle between injuries, suspensions, etc., we just couldn't seem to get it together. However, our record was no indication of our heart, when we finally "clicked" and everyone was healthy we went on a seven-game winning streak, it turned out to be a great ending, unfortunately it wasn't enough to secure a play-off run, I think if we had that opportunity we'd have been dangerous."
As far as expectations, Laganiere has none. "I'm not going into the year with any expectations. We have a good core of guys coming back so as long as the boys work hard, we'll be alright."
However, the expectations for Ray Welsh are, "To put a team full of contenders on the ice, win or lose, work hard every game, improve every game and display great character despite the scoreboard. I know we have the potential for a successful season record-wise but our goal is to advance our players, whether it be during the season to higher levels, or at the conclusion of the season when they commit to Tier I, II, DI, DIII, etc., programs, then we've done our job."
Coach Laganiere is all about helping his players get to the next level. "Having played college hockey, I have made a lot of connections. I want to help the players get to the next level, whether that is NCAA or the NAHL."
In they eyes of owner Ray Welsh, community support and giving back to the community teaches the boys much more how to play the game. "When Binghamton had a Junior team previously they would easily have 700 +/- fans, I know because I went to those games, it was elbow to elbow and great fun. So the buzz around town is all about the return of a JR team, we had posters made of our schedules and businesses are hanging them up, we are asked daily for them, pocket schedules too, we've got season tickets in demand and being printed as we speak. We have met with the STHA (Southern Tier Hockey Association) to "adopt-a-team" and partner with their youth program, which we hope will in turn drum up a solid fan base and future Junior Senators. We are planning "theme" nights like a Fire & Police night, of course a Pink game, etc., we want our games to be fun to attend for all ages. One main focus for us, and something we could never seem to get off the ground in Wilkes-Barre, is to really be out there within the community by way of volunteering, it's so important to be able to give back, we are hoping to excel in that area. We've got great support from the owner of our rink, which has an onsite restaurant/bar and will also be running game day specials to further promote us."
Next in the 48 in 24 series: Bozeman Icedogs