48 in 24 Series: College Station Spirit
August 14, 2016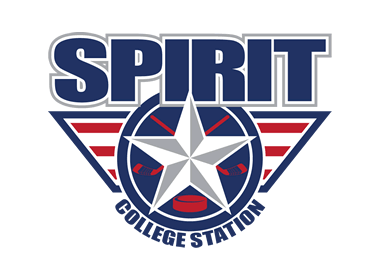 The 48 in 24 series will feature an in-depth look into all 48 teams in the NA3HL for the 2016-17 season, with new teams being highlighted daily, leading all the way up until the start of the regular season. 48 in 24 goes in-depth into each NA3HL team and will include interviews with all 48 head coaches in the NA3HL, as they provide fans with their expectations and outlook for the 2016-17 season, including taking a look at their potential roster and their strengths as a team for the upcoming season. It will also take a look back on the 2015-16 season and how each team fared and what they accomplished. Best of all, 48 in 24 will provide the fans of the NA3HL with an inside look at their favorite team and what to expect.
College Station Spirit
2015-16 Record: 22-24-1, 45 pts. (4th in the South Division *as Sugarland)
2015-16 Playoffs: Lost to Point Mallard in the South Division Semi-Finals, 2 games to 1
Head Coach: Nick Bydal
2016-17 Division: South
The College Station Spirit, formally known as the Sugarland Imperials, was purchased and relocated to College Station, Texas, following the conclusion of the 2015-16 season. The team and coaches are excited for the new ownership and relocation. They are also excited for the new league structure to bring forth new opportunities for the kids to chase their dreams and work their way up the ladder to playing hockey at the highest level possible.
New Head Coach Nick Bydal looks forward to a year of building a team and improving their players. "We are looking to build a culture of winning and moving players on to the next level. We want to find the weaknesses of a player and improve them and give them the opportunity to keep playing hockey," said Bydal.
Bydal is searching for the small things that will make a big difference when his players move onto higher levels. He stated, "The players at this level are good but are just missing something little in their game and we are trying to find what that is and improve and move them on to the next level."
In advancing their players, Coach Bydal said, "As far as moving players on, we are going to reach out to teams that we think our players will be a good fit for. We are going to try to showcase our players' abilities so when teams come to watch them, they will see what that players' strengths are and see the same thing we do." Advancing these kids is what this league is all about and Bydal will do what it takes to give them what they need to do so.
Coach Bydal has some simple and concise expectations for the upcoming season and his players. "Our expectation is to get better every day, as cliché as that sounds, we feel that if we that we will be successful." The tactical approach of simplicity just might get them where they want to be.
The College Station Spirt will do as much as they can when it comes to community support. Like every other team, they like to get involved with multiple community activities.
Bydal said, "We will be going into schools and talking to kids about the importance of school and taking it seriously. We will also be involved in the hockey community and supporting the youth hockey program as well. The mite, squirts, and peewees will also be the Spirit. We will be promoting hockey in Texas, trying to spread the positivity that hockey can bring to a young person's life and the life lessons they can learn from being part of a team and facing adversities with every day issues."
Getting in there and showing those kids the joy and playfulness of hockey is important to the Spirit.
Next up in the 48 in 24 series: East Coast Minutemen