48 in 24 Series: East Coast Minutemen
August 15, 2016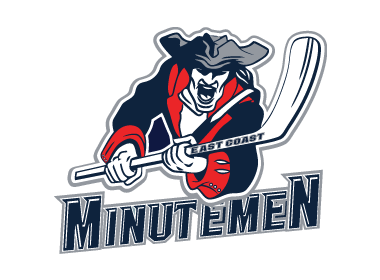 The 48 in 24 series will feature an in-depth look into all 48 teams in the NA3HL for the 2016-17 season, with new teams being highlighted daily, leading all the way up until the start of the regular season. 48 in 24 goes in-depth into each NA3HL team and will include interviews with all 48 head coaches in the NA3HL, as they provide fans with their expectations and outlook for the 2016-17 season, including taking a look at their potential roster and their strengths as a team for the upcoming season. It will also take a look back on the 2015-16 season and how each team fared and what they accomplished. Best of all, 48 in 24 will provide the fans of the NA3HL with an inside look at their favorite team and what to expect.
East Coast Minutemen
2015-16 Record: 11-33-0, 22 pts. (5th in East Division *in NA3EHL)
2015-16 Playoffs: Did not qualify
Head Coach: Neil Liston
2016-17 Division: Coastal
The Minutemen had a rough season last year in the NA3EHL with quite a few injuries to key players, but they are very excited to be competing in the 48-team NA3HL now. Their main problem this past season was conflicting personalities of players. Head Coach Neil Liston said, "We had some very focused and dedicated players and others who were only going through the motions."
Although they had a tough season, it was still an improvement from the previous season. Coach Liston learned quite a bit from this past. "One thing I've finally learned is not to put too much time into the players who do not take advice and won't work on their own advancement. There are a lot of misinformed players and parents out there who think college coaches are lining up to watch their kids play and just offer them a spot in a college program."
Coach Liston is working hard on developing a team that can have and produce stand-up players that have the drive to move on to higher levels. "This year we are putting a lot more time into looking for the players who truly want to be a part of building a program and who can focus on the work needed on and off the ice to give themselves the opportunity to become NCAA student athletes," he said.
The East Coast Minutemen have some home field advantage when it comes to advancing their players onto higher levels. Coach Liston and his colleagues put all they can into giving their players a better future, but the players also must put in the work and want to do it too. "We guide them through the process and work until we get them in a NCAA program that fits them. We're also working with several NCAA schools to schedule some of our home games at. Once that is done, we will ask for approval from the league. We're right in the backyard of NCAA hockey." Liston has many contacts in the north east and that makes it much easier to have his players seen. They have already had five school come to look at their guys at the Chowder Cup, so it is a combined effort between them and the players.
Coach Liston really wants to focus on coming together as a team. He stated, "I think team unity is our number one goal this season. With that, I think our players will be successful on and off the ice." Creating a unit and having exceptional attitudes all around seems to be a key component to their team atmosphere.
In regards to community support, Coach Liston says, "Every season our players take part in some charity events in the season. Other than that we've moved the team back to Massachusetts in an area where we know tons of youth programs and kids and should be able to stir up some interest."
Next up in the 48 in 24 series: Euless Jr. Stars