48 in 24 Series: Evansville Jr. Thunderbolts
August 16, 2016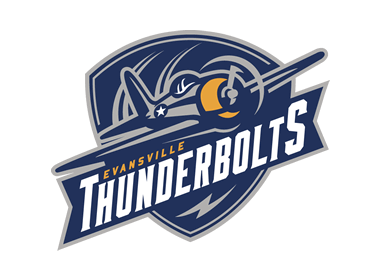 The 48 in 24 series will feature an in-depth look into all 48 teams in the NA3HL for the 2016-17 season, with new teams being highlighted daily, leading all the way up until the start of the regular season. 48 in 24 goes in-depth into each NA3HL team and will include interviews with all 48 head coaches in the NA3HL, as they provide fans with their expectations and outlook for the 2016-17 season, including taking a look at their potential roster and their strengths as a team for the upcoming season. It will also take a look back on the 2015-16 season and how each team fared and what they accomplished. Best of all, 48 in 24 will provide the fans of the NA3HL with an inside look at their favorite team and what to expect.
Evansville Jr. Thunderbolts
2015-16 Record: 2-44-1, 5 pts. (5th in Midwest Division)
2015-16 Playoffs: Did not qualify
Head Coach: Mark Cody
2016-17 Division: Midwest
Established in 2015, the Evansville Thunderbolts are still one of the newer teams in the NA3HL, though their name hints at a deeper history of the city. The team is named after the P-47D Thunderbolt, the fastest American aircraft used by the US Air Force during WWII that was manufactured in Evansville, Indiana.
The Bolts finished up their first season at the bottom of the Midwest Division and hope to pull ahead this year with their new coach, Mark Cody, who's excited to start.
"I'm excited for the opportunity to take over from last year," Cody said. "Last year's head coach Scott Fankhouser put me in a good place to take over."
Cody, who will be starting his first season coaching the Thunderbolts, is not new to the team, or the city. He's been serving as the Director of Hockey for the Evansville Youth Hockey Association and had been living and playing hockey in Evansville for years before that with the Evansville Icemen of the ECHL. Because of his history with the game, Cody always knew he wanted to work in hockey and saw an easy transition from playing, to directing youth hockey, to coaching.
Cody sees last season not as a set back but an opportunity. An opportunity for veteran players to return with everything they learned from a tough season. "I think they learned that it's not east to win," Cody said. "Being a young team with young leaders, they learned that it takes a lot more work than in high school or 18U."
Cody expects to have plenty of veteran players returning this season but will be bringing in some new blood as well, and is looking for players that are willing to put in the long hours it takes to win a championship.
"The big things for me are having kids that want to buy in and work hard," Cody said. " I want to have character players that know winning is not easy. Kids that want to work hard and get results."
The Thunderbolts had one commitment this summer with Brian Crink who will be playing at Daniel Webster College, a D3 school in Nashua, NH. They hope to build on this this season with their new roster. Being a player himself and working so much with youth hockey, Cody knows what it takes to advance players to the next level.
"The biggest things are skill level and character," Cody said. " A lot of coaches want kids with a skill set and kids that have good character and are team players."
Teams will be getting accustomed to a new league structure this season with 48 teams and eight divisions. Although Cody never coached with the original structure, he was familiar with it and the way the teams interacted under it, but is excited for a new layout that will grow the league.
"I think it's good," Cody said. "It creates awareness throughout the country of the NAHL and NA3HL brand. It'll make the league stronger and create more opportunities for players and the league."
Next up in the 48 in 24 series: Gillette Wild