48 in 24 Series: Gillette Wild
August 16, 2016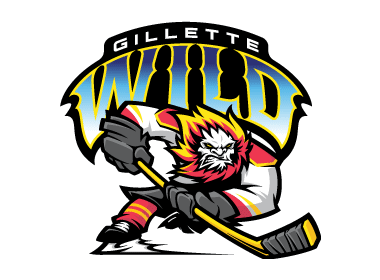 The 48 in 24 series will feature an in-depth look into all 48 teams in the NA3HL for the 2016-17 season, with new teams being highlighted daily, leading all the way up until the start of the regular season. 48 in 24 goes in-depth into each NA3HL team and will include interviews with all 48 head coaches in the NA3HL, as they provide fans with their expectations and outlook for the 2016-17 season, including taking a look at their potential roster and their strengths as a team for the upcoming season. It will also take a look back on the 2015-16 season and how each team fared and what they accomplished. Best of all, 48 in 24 will provide the fans of the NA3HL with an inside look at their favorite team and what to expect.
Gillette Wild
2015-16 Record: 27-20-0, 54 pts. (4th in the Frontier Division)
2015-16 Playoffs: Lost to Yellowstone in the Frontier Division Semi-Finals, 2 games to 1
Head Coach: Brendon Hodge
2016-17 Division: Frontier
The Gillette Wild of Gillette, Wyoming have finished only their second season with the NA3HL, but were familiar with junior level hockey far before that. The team started with the reestablishment of the AWHL in 2011, and the Wild joined the NA3HL as part of the AWHL merger in March 2014.
The Wild clinched a playoff spot last year with 54 points out of the Frontier Division, but fell short of the race for the Silver Cup. They gave the Yellowstone Quake everything they had in the Division Semi-Finals, losing in the third in final game of their series in overtime. They hope to replicate and build on that success from last year with hopes of another Championship run this season.
"This year we're looking to build off of what we accomplished last season and take another step forward as an organization," coach Brendon Hodge said.
Hodge will be entering his second season as the Wild's head coach but had an extensive playing career previously that has helped him shape the team in his own way.
"Before I coached I played hockey professionally," Hodge said. "As a player I always knew I wanted to be a part of the game when I retired and coaching was always something I wanted to do. I think playing for as long as I did, I experienced a lot in the game - good and bad. I just try to separate the bad things I experienced and focus on the good things I learned."
The NA3HL head coaches all have to learn a little more on-the-go this season with the recent structure change. The new league structure will include 48 teams in eight different divisions, so most of the organizations will be pitted against teams they've never played before.
"I think it's definitely going to be an interesting year this year," Hodge said. "The showcase in December should be really fun this year - being able to play teams from out east, and seeing teams we haven't played before."
The Wild are not shy about advancing their players to the next level. They have a slew of commitments each year, and last season sent four players up on to play college-level hockey. Forward, Trent Dillinger, an alumni player of the Wild, committed to Norwich University, an NEHC Division III school, this summer. Forward and Captain, Alex King, defenseman Tristen Leberknight, and defenseman Typer Reble, all committed to the University of Utah, an ACHA Division I school, this summer. Forward, Mitchell McEwan has committed to the University of Northern Colorado, an ACHA Division II school, this summer.
"We really try to help our players be as ready as possible to move on to college," Hodge said. "We talk about education with our guys on a daily basis. Our ultimate goal as an organization is to help our guys to get to the college that they feel most comfortable going to and that fits what they want to major in for school."
Up next in the 48 in 24 Series: Glacier Nationals