48 in 24 Series: Lockport Express
August 20, 2016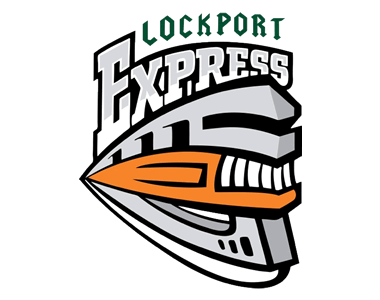 The 48 in 24 series will feature an in-depth look into all 48 teams in the NA3HL for the 2016-17 season, with new teams being highlighted daily, leading all the way up until the start of the regular season. 48 in 24 goes in-depth into each NA3HL team and will include interviews with all 48 head coaches in the NA3HL, as they provide fans with their expectations and outlook for the 2016-17 season, including taking a look at their potential roster and their strengths as a team for the upcoming season. It will also take a look back on the 2015-16 season and how each team fared and what they accomplished. Best of all, 48 in 24 will provide the fans of the NA3HL with an inside look at their favorite team and what to expect.
Lockport Express
2015-16 Record: 19-18-7 (4th in the West Division *in NA3EHL)
2015-16 Playoffs: Lost in the West Semi-Finals to Jersey Shore Wildcats, 2-0.
Head Coach: Brian Becker
2016-17 Division: Northeast
The 2015-16 Lockport Express finished the season 19-18-7, and their playoff run was cut short after losing two in a row to the eventual Champions, the Jersey Shore Wildcats. This year, armed with new head coach Brian Becker and a group of hungry veterans, the Express seek a return to the playoffs, and are willing to work as hard as possible to achieve it.
The Head Coach of Lockport credits his team's success to the addition of goaltender, Sam Fitzpatrick. High points of their third season include leading players to college commitments, and continue to grow their program. General Manager Frank Vecchio hopes to be a more disciplined and consistent team in the new season.
Returning players on defense include Gibson Stuart, Josh Evoy and Anthony Tommasi, as well as goaltender Sam Fitzpatrick. Key forwards include Frankie Bodami and Andrew Logar. Coaching staff from Lockport also suggest keeping an eye out for Aaron Shahin, a Michigan forward who, at 6'2 and 220 lbs, will be a large presence on the red line this year. Domenic Senese is also expected to make himself known on the front line, as well as, John Duffy, Pavel Svetlana and Nick Grupp on defense.
Successful Lockport Express alumni have committed to ACHA DI college programs at both Niagara and Canisius, and DIII programs at the University of Wisconsin, SUNY Potsdam and SUNY Morrisville.
By restructuring the league and making it larger and more spread out, players can be seen by a wider variety of coaches, scouts, and fans. The national presence is something everyone in the league seems to be looking forward to.
Similar to other teams in the NA3HL, Lockport's goal is to advance players to college hockey and beyond. Individually, Lockport's coaching staff hopes for player development on and off the ice, as an individual as well as a hockey player.
"Our job [as coaches] is to develop and advance players to the next level, whether that is NAHL, USHL or college. Our staff is very focused on skill development. We have a goalie coach and our dryland training facility is right in the arena. Each dryland program is designed specifically for each player as well as their nutrition. We have classroom and video training weekly. We have excellent relationships at the NAHL level through our affiliation with the Odessa Jackalopes, several college contacts in the SUNYAC and other leagues and we work very hard through those contacts to help our players advance and reach their goals," said Vecchio.
Based on the promise to mold Lockport players into good citizens as well as good players, the Express partners with several organizations in the area each year, and hopes to grow the number of organizations involved. Players are required to participate in community service activities, and their large fan base can be attributed to their strong presence in the community.
You can see Lockport faceoff in a doubleheader against the Roc City Royals starting September 17th, at 8 PM on home ice, and again on September 18th, at 7:30 PM, at the Lakeshore Hockey Arena.
Next up in the 48 in 24 series: Long Beach Sharks