48 in 24 Series: Long Beach Sharks
August 21, 2016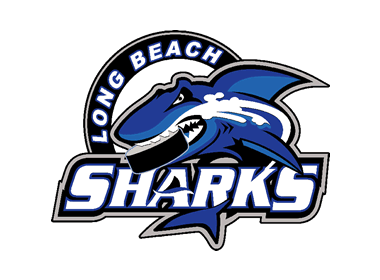 The 48 in 24 series will feature an in-depth look into all 48 teams in the NA3HL for the 2016-17 season, with new teams being highlighted daily, leading all the way up until the start of the regular season. 48 in 24 goes in-depth into each NA3HL team and will include interviews with all 48 head coaches in the NA3HL, as they provide fans with their expectations and outlook for the 2016-17 season, including taking a look at their potential roster and their strengths as a team for the upcoming season. It will also take a look back on the 2015-16 season and how each team fared and what they accomplished. Best of all, 48 in 24 will provide the fans of the NA3HL with an inside look at their favorite team and what to expect.
Long Beach Sharks (formerly New York Aviators)
2015-16 Record: 31-9-4, 66 points, *in NA3EHL
2015-16 Playoffs: Lost in West Division Finals to Jersey Shore, 2-1
Head Coach: Mike Stanaway
2016-17 Division: Coastal
Formerly the New York Aviators in the NA3EHL, the Sharks hope to establish a new identity with their new location and new name for the 2016-17 season. Jim Loughran, the main representative and governor for the Long Beach Sharks, hopes to continue producing players to excel at the college level, and bring the success from Brooklyn to Long Beach.
With a record number of college commitments under their belt in 2015-16, including goaltender Stephen Mundinger's NCAA Division I commitment to the University of Maine, the Sharks hope to break their record this year, by providing players with all the tools and contacts they need to succeed. This past year has lead to commitments at both the DI and DIII level, with colleges such as Westfield State, Aurora University, St. Olaf's, University of Maine, and Saint Norbert College, in addition to an NHL Development Camp.
Head Coach Mike Stanaway is no stranger to championships. He led the Marquette Royals of the Minnesota Junior Hockey League to a championship and a berth in the USA Hockey Junior National tournament in the team's' inaugural season.
Loughran believes the team's association with the NA3HL will bring a sense of legitimacy to the team, which will help in both recruiting new players and helping current players move on to college hockey and beyond. "Being a part of a league on a national level provides that much more visibility," said Loughran. Coach Stanaway agrees, stating that "a 48-team showcase should attract a lot of collegiate attention for the players."
Coach Mike Stanaway is very proud of the team he had this season, and their goal is to compete for a title each season - 2016-17 being no exception. Stanaway requires his players have an innate desire to improve and compete on a daily basis. He is confident in his new recruits working seamlessly to, "compliment our solid group of returning veterans."
Their goals for 2016 include continued on ice success, continued collegiate commitments, and to progress each year.
As a team, they hope to establish a strong commitment to the community. To accomplish the latter, the Sharks will hold many themed nights, to raise money and support for a wide variety of causes. These causes include, but are not limited to, Breast Cancer Awareness, First Responder Appreciation Night, and will hold fundraisers for those affected by natural disasters. As far as continued on ice success is concerned, Stanaway hopes to compete for a Silver Cup and develop players to their full potential.
Being a new team in Long Beach, New York, Coach Stanaway wants to make sure his team "puts on a good show" for the people that come out to watch. Commitment to helping the community is a solid way to prove to fans that the Sharks are a "hardworking and honest team that our community can be proud of."
The Sharks are slated to open their season with a doubleheader against the East Coast Minutemen. Both games will be held on Sharks' home ice. Game one will start at 7:30 PM on September 9th, and the second will start at 8:00 PM on September 19th.
Next in the 48 in 24 series: Louisiana Drillers