48 in 24 Series: Metro Jets
August 22, 2016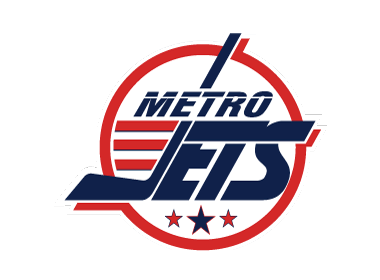 The 48 in 24 series will feature an in-depth look into all 48 teams in the NA3HL for the 2016-17 season, with new teams being highlighted daily, leading all the way up until the start of the regular season. 48 in 24 goes in-depth into each NA3HL team and will include interviews with all 48 head coaches in the NA3HL, as they provide fans with their expectations and outlook for the 2016-17 season, including taking a look at their potential roster and their strengths as a team for the upcoming season. It will also take a look back on the 2015-16 season and how each team fared and what they accomplished. Best of all, 48 in 24 will provide the fans of the NA3HL with an inside look at their favorite team and what to expect.
Metro Jets
2015-16 Record: 40-5-2, 82 pts. (1st in East Division)
2016 Playoffs: Won the East Division, Lost in Silver Cup Finals to North Iowa
Head Coach: Justin Quenneville
2016-17 Division: East
Although the season did not end the way they had hoped with an NA3HL National Championship, the Metro Jets had a memorable season under head coach Justin Quenneville, who had a few things to say looking back on the season. "It seems like yesterday that we were in the championship game and our entire organization was happy with how the year played out. Naturally, we fell one game short of the ultimate prize, but it was another great experience for our guys. We had many college commitments and NAHL advancements and we look to continue to provide a platform for young players to develop."
Those college commitments included nine players with Jets ties with NCAA commitments, including seven players with NCAA Division III commits and two with NCAA Division I commitments.
Kevin Shand, leading scorer last season, committed to Milwaukee School of Engineering where he will attend this coming season. Michael Tratar, leading in assists last season with 53, has committed to Adrian College, along with goalie Trevor Kalinowski, and will also attend this coming season.
When asked about the main points of emphasis on building a team for this year, Coach Quenneville stated, "We have always had success building a team around speed and skill. We believe in having a balanced team, but make sure to play style that is difficult for opponents to keep up with. So with that in mind, we continue to find hungry hockey players who are willing to be challenged and play at this level."
With many of the Metro players leaving, Quenneville and the rest of the Jets have been working hard to find players to replace the ones who had college commitments over last season. Since a good core of new players will be coming in, Coach Quenneville has some words on how he is going to advance them to the next level and prepare them, and the returning players, for a new season.
"Having the opportunity to move up to the next level and being deserving of it are two totally different things. We take pride in providing both elements here with the Jets by focusing on the players' development. Our hockey staff is fortunate to have experience in the levels many of these players are wishing to achieve, so we look to continue to give them the most amount of opportunity available to succeed."
Last season was a great season for the Metro Jets, so the expectations of the team for this next season will be high with parents and fans. However, Coach Quenneville has a different technique when it comes to expectation. "To be honest, we never focus on the season, rather the week and the game ahead. Naturally we want to continue to be a top program in the standings, but we would rather continue to be a top program in advancing players. The challenge is finding a successful balance between the two and we are excited for another opportunity to that program."
When asked about how the team rounds up community support, Quenneville said, "Given that we are primarily a local hockey program, we are fortunate to have many local Metro-Detroit players suit up in a Jets uniform. Having a youth program from Mini-Mites to Juniors, has really allowed us to stretch our support system even further. Our environment and facilities carry a lot of history, and we are fortunate to have a program approaching its 30th year of existence in Metro-Detroit."
The Main Camp for the Metro Jets is currently in progress. The camp started on August 21st and will continue through the 26th.
Next up in the 48 in 24 series: Missoula Jr. Bruins