48 in 24 Series: Northeast Generals
August 25, 2016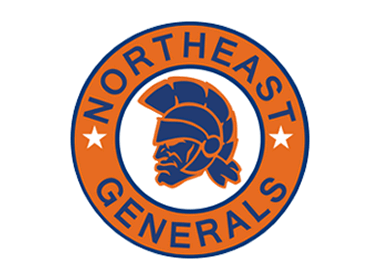 The 48 in 24 series will feature an in-depth look into all 48 teams in the NA3HL for the 2016-17 season, with new teams being highlighted daily, leading all the way up until the start of the regular season. 48 in 24 goes in-depth into each NA3HL team and will include interviews with all 48 head coaches in the NA3HL, as they provide fans with their expectations and outlook for the 2016-17 season, including taking a look at their potential roster and their strengths as a team for the upcoming season. It will also take a look back on the 2015-16 season and how each team fared and what they accomplished. Best of all, 48 in 24 will provide the fans of the NA3HL with an inside look at their favorite team and what to expect.
Northeast Generals
2015-16 Record: 9-32-3, 21 pts. (6th in East Division, *in NA3EHL)
2015-16 Playoffs: Did not qualify
Head Coach: Bryan Erikson
2016-17 Division: Coastal
The Northeast Generals were in the NA3EHL last year and are happy to be introduced into the NA3HL. They also have the upper hand of partnering up with the NAHL and having another team in that league as well. They feel the new league structure of the NA3HL is a benefit for everyone, which allows the teams and players to get in front of scouts easier.
The Generals had an overall good year and learned plenty. "For one, we had a great season and had so much fun. I think going through the adversity of wins and losses, gave us a good idea of how we want next year to go and how we want to fill up the team," said head coach Bryan Erikson. The Generals learned there are some things you just need in a team. "I have learned you need the experienced kids. So, this year we have filled out the team accordingly with older kids," states Erikson.
Coach Erikson really looks to the personality of his players when building his team. "I will always stay true to the quality kids with incredible character, good grades, and a solid support system. I will always chose the person over the player," says Coach Erikson. "A group will always get along better when they complement each other with their personalities and skills on the ice."
Advancing his players is a near and dear topic to Coach Erikson. He really tries to understand exactly what his players want and tries to make the perfect match. "We start by talking to them and getting high school and college transcripts. Then we ask what they want to do and how they want to move forward. From there, we can easily target the school and the good fit for them," says Erikson.
He likes his players to rank their schools in a special order. "We will have the players first tell us their dream school, then we decide what school we think they could play at, and the school they can academically get into. Finally, we merge all of those and market those kids accordingly," said Coach Erikson.
Erikson's goals for this upcoming season are simple and to the point. "We expect to win our division and top seed in the bracket of playoffs," said Erikson. With the team they have in mind and players they are training, this goal could be very attainable.
The Northeast Generals are always in the giving mood and do so when they can. They like to participate in local charities and get involved with the kids in schools and in youth hockey. The players really love giving back and that is what makes them so perfect for this team. "Their presence in community events is why we chose the kid over the player. It's that simple. We want the kids to connect with the community on a personal level," says Coach Erikson.
Next in the 48 in 24 series: Peoria Mustangs