48 in 24 Series: Peoria Mustangs
August 26, 2016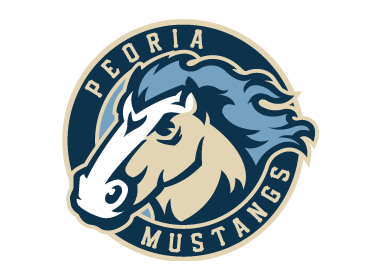 The 48 in 24 series will feature an in-depth look into all 48 teams in the NA3HL for the 2016-17 season, with new teams being highlighted daily, leading all the way up until the start of the regular season. 48 in 24 goes in-depth into each NA3HL team and will include interviews with all 48 head coaches in the NA3HL, as they provide fans with their expectations and outlook for the 2016-17 season, including taking a look at their potential roster and their strengths as a team for the upcoming season. It will also take a look back on the 2015-16 season and how each team fared and what they accomplished. Best of all, 48 in 24 will provide the fans of the NA3HL with an inside look at their favorite team and what to expect.
Peoria Mustangs
2015-16 Record: 32-12-3, 67 pts. (2nd in the Midwest Division)
2016 Playoffs: Lost in the Midwest Division Semi-Finals to Nashville, 2 games to 0
Head Coach: David Karpa
2016-17 Division: Midwest
A 32-win season, 2nd place finish the Midwest and several player advancements had the Peoria Mustangs riding high at the end of the regular season in 2015-16. However, the good feelings ended prematurely as they were swept in the opening round by Nashville.
In the off-season, one of the biggest advancements was that of head coach Tyler Rennette, who jumped up to the NAHL to become the new assistant coach for the Springfield Jr. Blues.
In stepped former NHL'er David Karpa. Karpa came to the Mustangs with a tremendous hockey resume and experience as both a player and coach. Last season, Karpa was the Assistant Coach for the Flint Firebirds of the Ontario Hockey League (OHL).
Karpa had a 15-year professional hockey career that included 12 seasons in the NHL where he played in 557 NHL regular season games and 19 NHL playoff games. Karpa was drafted #68 overall in the 4th round of the 1991 NHL Entry Draft by the Quebec Nordiques.
"The entire Peoria Mustangs organization, its fans and sponsors, are extremely pleased and excited to have Dave as our head coach and general manager," said Mustangs owner Paul Wayvon. "He brings with him a tremendous hockey background both as a player and coach and it will be a great learning experience for our players… as well as for our entire organization."
Karpa, who was named the head coach just weeks ago, said his philosophy is simple. "We want to develop players so they can move on and we want to play hockey the right way. That means playing the right systems and teaching the right skills, but also being good people off the ice too," said Karpa.
Wayvon echoed some of those sentiments… "Whenever an opportunity arises in the Mustangs organization, we challenge ourselves to be creative and to figure out how to move to a higher level to continually improve and grow. With regard to our players, there is a relentless focus on improving their hockey skills and abilities, but also building character, on and off the ice."
Karpa said that the first priority is to get to know the players at training camp and then assess what he has from there. "I want to sit down with each player and find out their aspirations and where they want to go. Then we will take their grades into consideration and then be able to reach out to coaches and get them connected," said Karpa. "Junior hockey seasons are a marathon. We want to stick to a process and be hard to play against every night and work hard."
Next up in the 48 in 24 series: Pittsburgh Vengeance