48 in 24 Series: Point Mallard Ducks
August 27, 2016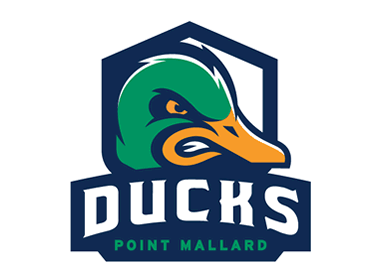 The 48 in 24 series will feature an in-depth look into all 48 teams in the NA3HL for the 2016-17 season, with new teams being highlighted daily, leading all the way up until the start of the regular season. 48 in 24 goes in-depth into each NA3HL team and will include interviews with all 48 head coaches in the NA3HL, as they provide fans with their expectations and outlook for the 2016-17 season, including taking a look at their potential roster and their strengths as a team for the upcoming season. It will also take a look back on the 2015-16 season and how each team fared and what they accomplished. Best of all, 48 in 24 will provide the fans of the NA3HL with an inside look at their favorite team and what to expect.
Point Mallard Ducks
2015-16 Record: 35-9-3, 73 pts. (1st in South Division)
2015-16 Playoffs: Won the South Division, Lost in the round-robin of the NA3HL Silver Cup Championship
Head Coach: Tom Winkler
2016-17 Division: South
This year was an exciting one for the Ducks. They won the South Division and advanced to the Silver Cup only to not advance out of the round-robin due to a close tie-breaker. However, they are excited to invite new teams into the league and have more competition. This past season competition is what made them work so hard, so they will need to step their game up to compete like they did last year.
The Point Mallard Ducks had quite the tremendous season and are very proud of how they played. "We had an astounding veteran leadership this year which helped our younger players adjust rather quickly. We also had an exceptional competition level and played very high tempo games. Our division was a battle all the way until the last weekend of the season, we had to earn that title, we lost two games in regulation after January 3rd and the division was won on the last day of the regular season," said Head Coach Tom Winkler.
The Ducks learned that you have to be willing to learn and grow after every game. "We learned that this league is so competitive every night, and you have to be prepared for every game and show up to play every game," states Winkler.
The main focus for Point Mallard on building a team for this year is getting their players to work just as hard as they did last year, if not more. "We have graduated some extremely quality players from last year's team, but that is a part of this level. We will have to instill the work ethic and compete level in this group immediately so we are prepared for league competition. We have many quality veteran returners and a very strong core of new kids coming in that we will be able to maintain our high pace of play," said Coach Winkler.
When advancing their players, Winkler likes to rely on his connections and players skills to get them to the next level. "We are always in constant communication with NCAA programs and being an affiliate of the Shreveport Mudbugs of the NAHL always open opportunities for our players. Promotion is just like recruiting, a never ending process," states Winkler.
Coach Tom Winkler fully expects his team go all in this year. "Anytime you win a division and playoff title, you have a target on your back. We expect to see the best of every team we play. Our goal is to get back to the Silver Cup and improve on our 2-1 record at that tournament. We also know it is going to be a tremendous challenge and we have to embrace the process of team and individual development every day," says Winkler. If the Ducks follow their coach and push as hard as they can, they just might be able to do this.
The Point Mallard Ducks love to give back to their community, they do many activities and events. "We did over 100 community involvement activities last season, everything from Learn-to-Play hockey to building houses with Habitat for Humanity. We are constantly melding ourselves in the community and it has led to exponential community support," said Coach Winkler.
Next up in the 48 in 24 series: Roc City Royals