48 in 24 Series: Roc City Royals
August 27, 2016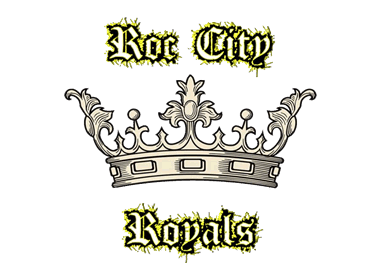 The 48 in 24 series will feature an in-depth look into all 48 teams in the NA3HL for the 2016-17 season, with new teams being highlighted daily, leading all the way up until the start of the regular season. 48 in 24 goes in-depth into each NA3HL team and will include interviews with all 48 head coaches in the NA3HL, as they provide fans with their expectations and outlook for the 2016-17 season, including taking a look at their potential roster and their strengths as a team for the upcoming season. It will also take a look back on the 2015-16 season and how each team fared and what they accomplished. Best of all, 48 in 24 will provide the fans of the NA3HL with an inside look at their favorite team and what to expect.
Roc City Royals
2015-16 Record: 25-16-3, 53 pts. (3rd in West Division, *in NA3EHL)
2015-16 Playoffs: Lost in the West Semi-Finals to New York, 2-0
Head Coach: Marc Staley
2016-17 Division: Northeast
The Roc City Royals had their best season this past year and even went to the NA3EHL playoffs. They are one of the 13 teas to come over to the NA3HL from the NA3EHL and this season will be more competitive with the added teams to the league, but the Royals are ready and excited to take on the challenge. "We are excited for the cross over games and for the showcase in Blaine, and we are proud to be affiliated with the largest and best organized junior league in the country," said Head Coach Marc Staley.
The Royals may not have won this past season but they made impressive strides for themselves. "As a program, we took a nice step forward last year winning 25 games. We were also one of the few teams in the league to beat Jersey Shore, so we know we can get to that level. Simply put, we learned that we need to get better," said Staley. The Royals have worked harder this summer than they ever have and they are constantly trying to improve on the experience, development, and promotion that they want to deliver to tie players.
The main point of emphasis on building a team this year is exposing their players and moving them to higher levels as much as they can. "Our program seems to be going a bit younger with our players. I think if we are going to consider ourselves a legitimate feeder league for the NAHL, we can't all load our rosters with 19 and 20 year olds. I think we are much more focused now with developing players to move onto the NAHL, not just the college ranks. Wins are great, but if we can move three to four players each year up into the NAHL, and perhaps three to four into the college ranks; I think we will have struck the right balance," said Coach Staley.
When advancing their players, Coach Staley likes to get started early and really use his knowledge of experience to help his players move on. He likes to focus especially on their academic education as well. "We've made many connections this summer with NAHL programs and already have a few younger players who are being closely watched by the NAHL. As a former college coach myself, I know quite a few NCAA coaches throughout the northeast. We like to work with the kids early in the year and help them target schools that would fit them from an academic and athletic perspective. College coaches want to see student athletes who can balance the rigors of junior hockey with successful classroom performance," states Staley.
Coach Staley, first and foremost expects, growth and learning from his team. "We will be a bit younger this year, but I think we will be more skilled than last year's version. It is tough to say how that will translate, because I think all of the teams are taking a step up this season. We are going to be much more disciplined that last year, and I think we will be better defensively," says Staley.
The Roc City Royals wanted to highlight a few of their returning players from this past season and a couple new players. First, there is Brayden Corey who was a dynamic scorer for the Royals even after joining the team late. "Corey led our team in goal scoring and as a league leaders in points per game," said Coach Staley. Next, there are two returning veterans, Defenseman Aiden Conolly and Zach Bucholtz. Conolly was the leading scorer among defensemen last season and will serve as a co-captain this season with Corey. Next to return is Cameron Clark. "I have full faith and no doubt that after Cameron finishes high school, he will move up to the NAHL," states Staley. Another returning member is goaltender Ian Stahl along with Freddy Peters who played Junior College last season. Finally, keep a look out for two powerful newcomers, 6'2 Forward Henrik Toivianen from Finland, and 6'2 forward Shane Leonard from Michigan.
Next in the 48 in 24 series: Rochester Ice Hawks