48 in 24 Series: Southern Tier Xpress
August 29, 2016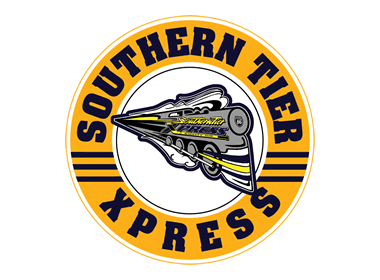 The 48 in 24 series will feature an in-depth look into all 48 teams in the NA3HL for the 2016-17 season, with new teams being highlighted daily, leading all the way up until the start of the regular season. 48 in 24 goes in-depth into each NA3HL team and will include interviews with all 48 head coaches in the NA3HL, as they provide fans with their expectations and outlook for the 2016-17 season, including taking a look at their potential roster and their strengths as a team for the upcoming season. It will also take a look back on the 2015-16 season and how each team fared and what they accomplished. Best of all, 48 in 24 will provide the fans of the NA3HL with an inside look at their favorite team and what to expect.
Southern Tier Xpress
2015-16 Record: 8-35-4, 20 pts. (6th in the East Division)
2016 Playoffs: Did not qualify
Head Coach: Brian Ramm
2016-17 Division: East
The Southern Tier Xpress, out of Jamestown, New York, will be entering their third season with the NA3HL. The Xpress fell just short of the playoffs last year and head coach, Brian Ramm, believes their off season changes will make a big difference in their success this season.
"We had a difficult season and faced many challenges, Ramm said. "The main thing we learned was that chemistry in the locker room is of the highest importance. We changed our player personnel and have brought back a lot of good people."
This will be Ramm's second season with the Xpress and considers hockey to be his passion. He was a player previously and he has been coaching since his playing career ended. Outside of the hockey world though, Ramm (WORDS) as a CPA and financial advisor, and owns his own advisory firm. He thinks all his experience in and out of hockey has shaped the way he is as a coach and is excited to learn even more this season.
Like many coaches, his off-season focus has been on finding the right players that will mesh well with new and veteran players, coachable players that will have a good chemistry together.
"We want players who are here to continue their development," Ramm said. "We want kids who understand what it means to be a teammate."
The Xpress had two NCAA advancements this summer. Defenseman Philip Grippi committed to Adrian an ACHA DI university, and forward Luke Grossman committed to Slippery Rock University, also an ACHA DI university. Ramm's top focus for advancing his players is their skating, mental toughness, and not being a liability on the ice.
"The highest level players are excellent skaters," Ramm said. "You have to be mentally tough at any level, and the coach has to be able to trust you on the ice."
Along with their focus on advancing players, Ramm also notes the importance of the community impact the team has.
"We try to work with youth hockey players and the kids at their schools, Ramm said. "We have the best fans and a very tight knit community. We try to make sure our players are accessible to the young fans."
Next in the 48 in 24 series: St. Louis Jr. Blues