48 in 24 Series: Syracuse Stampede
August 30, 2016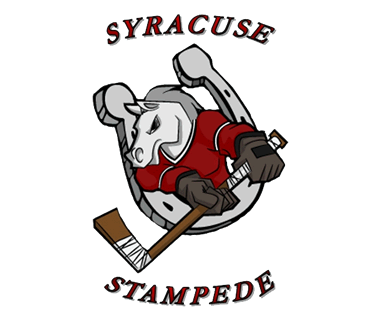 The 48 in 24 series will feature an in-depth look into all 48 teams in the NA3HL for the 2016-17 season, with new teams being highlighted daily, leading all the way up until the start of the regular season. 48 in 24 goes in-depth into each NA3HL team and will include interviews with all 48 head coaches in the NA3HL, as they provide fans with their expectations and outlook for the 2016-17 season, including taking a look at their potential roster and their strengths as a team for the upcoming season. It will also take a look back on the 2015-16 season and how each team fared and what they accomplished. Best of all, 48 in 24 will provide the fans of the NA3HL with an inside look at their favorite team and what to expect.
Syracuse Stampede
2015-16 Record: 20-23-1, 45 points (5th in West Division, *in NA3EHL)
2015-16 Playoffs: Did not qualify
Head Coach: Mike Beavis
2016-17 Division: Northeast
This past season, Coach Mike Beavis was presented with some challenges in the NA3EHL. Despite going into the season at about .500, he is confident that the Stampede could have made the playoffs if they had tightened their game up a little earlier and took advantage of the opportunities presented to them. He takes pride in beating Jersey Shore twice in 2015-16, which was a feat for most teams as Jersey Shore went on to win the championship. Beavis is also pleased with his players ability to "play systems and stick to the game plan." Beavis hopes to assemble a team that is full of hard working players that keep the team, as well as individual, goals in mind "day in and day out."
During the offseason, Coach Mike added more offensive players, which he believes will enhance the Stampede, while keeping the "same structure for our systems" and continuing to "support each other both on and off the ice." This season, Beavis hopes to work hard to be the best they can be, "both on and off the ice, [and] the rest will fall into place." He believes that this season, the Stampede will be hard to compete against, and has a personal goal of finding a home for all 5 of his '96 birth year players, so they can continue playing at the college level.
Mike Beavis ensures that more mature returners, as well as fresh-faced new recruits add depth to the roster. Returning players to watch include forwards Nick Sanborn, Hunter Soden, Nate Walker, Rocco DeRollo, Ryan Scheide, and Josh Wallace. On the blue line, watch out for Rich Hart on defense.
The Stampede also amped up their goaltending with the addition of Swedish goaltender Martin Sten and Steven Kozikoski. Other new faces include Oscar Lande, Eddie Canon, Sukhman Nahal, Taner Byrd, Matt Allen, Brett Lowe, Ethan Mapes, and Malik Lamotte-Stokes and Tristan Ayoubi, both from California.
When asked about the new NA3HL structure, Coach Beavis admits that he thinks "the growth of the NA3HL is tremendous, it is a huge developmental ladder that will help build success for players from all over to be exposed to NAHL and NCAA opportunities."
Playing out of an NCAA DIII arena has been proven to benefit the Stampede, providing them with weekly interactions with several college coaches, and providing maximum exposure for the players. In the past 5 seasons, Syracuse has placed 16 players in NCAA DI, DIII, and ACHA programs throughout the country.
The Stampede take a holistic approach when preparing players for college, pairing them with schools that not only fit the player's skillset, but the academic needs of the player as well. "We remind our players that hockey is a means to an end, with the end being a college education," said Coach Beavis.
Off the ice, the players are very active in the community, and often volunteer with younger groups and schools in the area. Beavis hopes to develop a relationship with the youth hockey association that shares a rink with the Stampede. As a result of community activity, the Stampede have developed a "decent" fan base at Morrisville State College.
Syracuse kicks off their season with a double header against the Maine Wild, in Maine, on September 17th and 18th, at 7:30 PM and 11:00 AM, respectively.
Next up in the 24 in 24 series: Texas Jr. Brahmas