48 in 24 Series: Yellowstone Quake
September 2, 2016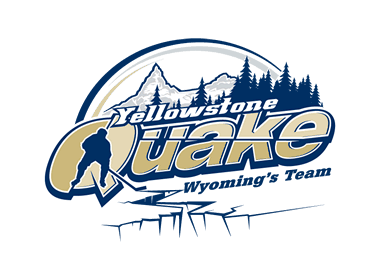 The 48 in 24 series will feature an in-depth look into all 48 teams in the NA3HL for the 2016-17 season, with new teams being highlighted daily, leading all the way up until the start of the regular season. 48 in 24 goes in-depth into each NA3HL team and will include interviews with all 48 head coaches in the NA3HL, as they provide fans with their expectations and outlook for the 2016-17 season, including taking a look at their potential roster and their strengths as a team for the upcoming season. It will also take a look back on the 2015-16 season and how each team fared and what they accomplished. Best of all, 48 in 24 will provide the fans of the NA3HL with an inside look at their favorite team and what to expect.
Yellowstone Quake
2015-16 Record: 35-9-3, 73 pts. (1st in Frontier)
2016 Playoffs: Lost in the Frontier Finals to Great Falls, 2 games to 0, Qualified as wild card for Silver Cup, lost in Silver Cup round-robin.
Head Coach: Ryan Theros
2016-17 Division: Frontier
The Quake had a dominating season last year, despite losing in the Frontier Division Finals and then the Silver Cup Championship. Although that was a tough was to go out, this team is one to look out for this coming season.
When asking Coach Theros what his thoughts were on last season, and what was learned, he said, "It was a very exciting and fun season for my first year taking over a last placed team and winning the division was something I wanted to accomplish, but knew a lot of work had to be done each and every day, by everyone involved, to make it happen. The players we had on our team were a great group of young men and were very determined to get better every day as a team, and I think that played a big role in our success throughout. We were a pretty young team with only six '95 birth year players that aged out, with a lot of young players stepping up throughout to contribute to the team's success."
Coach's main points of emphasis on building a team for this year are to, "continue the attitude and effort towards individual development and accountability in each player to help these players gain the confidence and skills to make it to the next level. Along with that teaching these young men the work ethic that is needed to be successful, looking to our veterans to be leaders and hit the ice right from the start. Our new players need to push the pace to bring together a good combination to become a team early and build on it throughout.'"
There's no doubt that this team was one of the best teams in the league last season, therefore, Coach Theros shared some of the things he is doing to work on advancing his players to the next level:
"We want to push these players to get out of their comfort zone, and start to think the game quicker. The higher up you go, the faster the game gets. So, we want to put these players in situations where they have to make quick decisions and continue to grow with the game. We want to continue to cultivate relationships with NAHL Coaches and Staff to be able to fill them in on how our players are doing to give them information needed to help move our players up when the opportunity arises."
Although this team is one to worry about when they hit the ice, there is still some room for growth. Coach Theros' expectation for this season is to '"get better every day individually and as a team through commitment and dedication. Our goal is to be a team in our division that competes at a high level throughout, taking one day at a time to go into each weekend of games with confidence.'"
As for community of Cody, Wyoming, that is one thing that Coach Theros is very proud to be a part of. "It truly is a special place for these players to be able to experience while playing the game we all love. We have numerous opportunities with the community to give back, some consist of helping out at the Assisted Living homes where the players will go eat lunch, play beanbags and talk stories with the residents. We have weekly truck deliveries to the local food shelf helping stock the shelves and unload trucks. The players will find part time jobs in town where the community gets to meet and get to know these guys on a personal level and build relationships within the community. I believe it is all part of it when the players can build life skills and people skills outside the game. We're not just building them for life now but building them for their future!"
This concludes the NA3HL 48 in 24 series. The NA3HL 2016-17 regular season begins Saturday, September 3rd.