Friday Finals: Islanders blank Generals, 1-0
September 10, 2016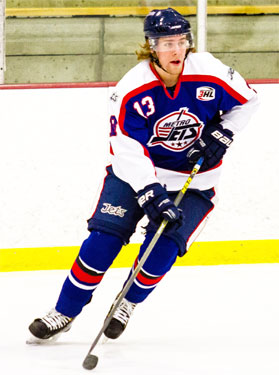 Cape Cod Islanders 1 vs. Northeast Generals 0 - In their home opener, the Generals and Islanders managed to be scoreless for 49 and a half minutes before Tyler Gillen of Cape Cod scored at 9:30 of the third period. Gillen was assisted by Jack Conway and Nash Braun. Gillen's was the lone goal of the game for a final score of 1-0 Cape Cod over Northeast. Anton Zemba made 37 saves for Cape Cod, shutting out the Generals. Leo Lake of the Generals made 23 stops in the game.
Alexandra Blizzard 5 vs. Breezy Point North Stars 4 - A team effort by the North Stars in the third period brought them within one, but an early lead for the Blizzard led them to come out on top in a 5-4 win. Alec Seeger, Mack Strong, Dawson Ellingworth, and David Carey (2), all tallied goals for Alexandra. Tyler Larwood, Nick Blanchette, Wyatt Stotts, and Andrew Heckaman each netted one goal for North Point. In net, Brey Effertz made 34 saves for the Blizzard, and Magnus Lindhe stopped 27 pucks for the North Stars.
Lockport Express 6 vs. Southern Tier Express 2 - Although Southern Tier opened and closed the game with both the first and last goals, Lockport's six unanswered goals in the middle led them to a 6-2 win. Joseph Gerace and Matthew Crosby were the scorers for Southern Tier. Dominic Senese, Ryan Metzler, Andrew Logar (2), Luca Mazzo and Ian Bressett each scored for Lockport. Harrison Vangellow was in net for Southern Tier, while Sam Fitzpatrick got the win for Lockport.
Toledo Cherokee 6 vs. Wooster Oilers 4 - The lead was never more than two goals, but an early lead for the Cherokee was enough to bring them to a 6-4 win over the Oilers in the season opener. Nolan Stanley, Giovanni Toarmina (2), EJ Gilbert (2), and Tristin Snyder scored goals for the Cherokee. For the Oilers, Michael Zenone, Trenton Mulnix (2), and Tyler Groth put up points. In net, Jeremy Hamerquist made 21 saves for Toledo. Michael Hubbard played thirty minutes and collected 23 saves for Wooster, and Creighton Furber made 19 saves in 27 minutes.
Long Beach Sharks 14 vs. East Coast Minutemen 2 - A strong offensive presence for the Long Beach Sharks led them to a 14-2 win over the East Coast Minutemen. Goal scorers for Long Beach included Hal Gemignani, Kyle Sada, Gunther Stange (2), Sam Weidenbaum, Zach Ruley (2), Martins Vitolins (3), Oskar Lindberg (2), Alex Pilatsky, and Carmine Taffo. Minutemen scorers were Matt Orourke and Alex Dipadua. For the Sharks, Kyle Van Wagner made 27 saves on 29 shots in sixty minutes of play. For the Minutemen, Dom Monteclavo stopped 32 shots in forty minutes, while Nick Kent collected 14 saves in twenty minutes.
Metro Jets 5 vs. West Michigan Wolves 1 - Four unanswered goals in the second period helped the Metro Jets clinch a 5-1 win over the West Michigan Wolves. Goals for Metro were scored by Trevor Momot (2), Mathias Tellstrom, Jason Newel, and Chas Distelrath. The lone goal for West Michigan was scored by Thomas Harrison. In net, Jake Gwillim stopped 18 shots for Metro, and Alex Wilder made 38 saves for the Wolves.