Saturday Scores: Jets roll to opening weekend sweep
September 11, 2016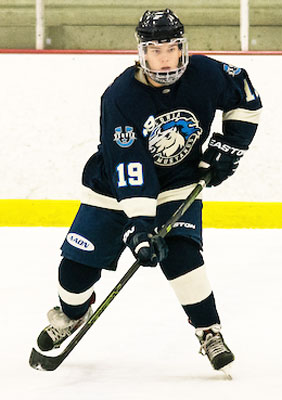 Metro Jets 5 vs. West Michigan Wolves 0 - An early third period lead for the Jets led them to cruise their way to a 5-0 win over the Wolves. Scorers for Metro included Evan Newel, Robby Flannery, Chas Distelrath, Cam Schwartz, and Mathias Tellstrom. In net, Sam Woznicki stopped 28 shots for West Michigan. For Metro, Andrew Kormos played a perfect game – stopping 25 shots.
New England Stars 5 vs. Maine Wild 2 - Two goals in the third secured a win for the Stars, who beat the Maine Wild 5-2. Scorers among the Stars include Aidan Conlon, Cole Archambault, Nick Johnson, Ian Gately, and Michael Lempiainen. For the Wild, Zach Gagne and Jordan Tieken each netted a goal. In the net, New England's Marcus Mitchell and Brandon Daigle worked hard between the pipes.
Skylands Kings 4 vs. Binghamton Junior Senators 3 (SO) - Sixty minutes of regulation was not enough for these teams, and in the end a shootout goal for the Kings gave them the win over the Senators, 4-3. Edward Klein had the shootout winner. Scorers for the Kings include Jan Broz (2), and Craig Garrigan. For the Senators, Conor Landrigan, Michael Hennekens, and Jimmy Petuch each netted one. In the crease, Mathias Yttereng stopped 53 shots for the Kings, while Steven Schmitt blocked 29 for Binghamton.
Peoria Mustangs 7 vs. North Iowa Bulls 3 - A five goal surge in the first two periods gave the Mustangs a solid lead over the Bulls, eventually resulting in a 7-3 win. Peoria Mustang's scoring players include Tony Iacullo (2), Braden Stewart, Zach Cox (2), Jack Healy, and Andrej Buchko. The North Iowa Bulls earned points on the scoreboard from Owen Larsen, Steven Mordini, and Marshall Barnes. Between the pipes, JT Kossakowski stopped 35 shots for Peoria, while Zack St. John made 19 saves for North Iowa.
Long Beach Sharks 5 vs. East Coast Minutemen 4 (OT) - After regulation, both the Long Beach Sharks and East Coast Minutemen had netted four goals, sending them into OT. A shot from Zach Ruley & assisted by Ricardo Regala the game after 3 minutes of overtime, giving the Sharks a 5-4 win over the Minutemen.
Other scorers from Long Beach include Martins Vitolins and Keegan Brick, who each netted two goals. For East Coast, Jake Lilledahl, Alex Dipadua, Eric Steeves and Joseph Brochu each scored a point. On the defense, Will Langstaff stopped 19 shots on net for Long Beach, and Nick Kent made 66 saves for East Coast.
St. Louis Jr. Blues 4 vs. Cincinnati Thunder 1 - With four unanswered goals in the first two periods of play, the Jr. Blues cruised their way to a 4-1 victory over the Thunder. For St. Louis, Samuel Maddox scored twice, while Tomas Loeffelman and Frankie Cardinale each scored one. Cincinnati's Jacob Friedman scored the lone goal for the Thunder. Zach Young made 19 saves for the St. Louis Jr. Blues, while Tyler Geloneck made 42 saves on 46 shots for the Cincinnati Thunder.
Breezy Point North Stars 8 vs. Rochester Ice Hawks 0 - The North Stars established an early lead against the Ice Hawks, resulting in an 8-0 win. The Breezy Point North Stars had multiple scorers, including Andrew Heckamen, Josh Laven, Tyler Larwood, Alex Flicek, Austin Langworthy, and Kyle Klatt each scored once, and Trystin Sabina netted two against the Ice Hawks. The Ice Hawks split their goaltending – Sawyer Schmidt made 14 saves in 26 and a half minutes, while Drew Schenkenberg stopped 25 shots in 33 and a half minutes of play. For the North Stars, Sam Moberg stopped 100% of the 17 shots he faced.
Toledo Cherokee 7 vs. Wooster Oilers 2 - An early five goal lead for the Cherokee was enough to power them over the Oilers, resulting in a 7-2 win for Toledo. EJ Gilbert was the star for the Cherokee tonight – netting five goals throughout the game. The other goals came via Ricky Kwapick, who also assisted on 4/5 of Gilbert's goals, and Nolan Stanley. Wooster's pair of goals were scored by Cole Barney and Nicholas Stanko. Toledo's Adrain Morales stopped 28 of the 30 shots he faced, while Michael Hubbard and Andre Benoit split the net for Wooster, stopping 21 and 9 shots, respectively.