Sunday Wrap-Up: Jr. Blues complete sweep of Thunder
September 12, 2016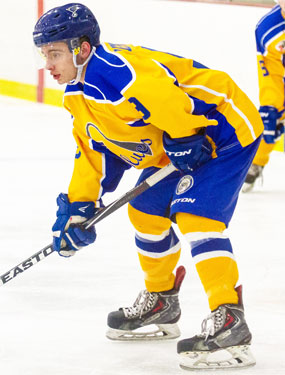 Cape Cod Islanders 6 vs. Maine Wild 3 - Tied after two, the Islanders finished strong, giving them a 6-3 win over the Maine Wild. Scorers for Cape Cod were Chuck Costello (2), Mitchell Eldridge (2), Jake David, and Nick Dulac. For the Wild, Ryan Gilboy scored twice and Evgeni Semeniuk netted one. In net, Ryan Clifford saved 37 of 38 shots on the Islanders net, while Alex Fortuna made 44 saves for the Wild.
St. Louis Jr. Blues 7 vs. Cincinnati Thunder 2 - The St. Louis Jr. Blues defeated the Cincinnati Thunder, 7-2, after scoring five unanswered goals in the first and second periods. Daniil Ovchinnikov (2), Ryan Edgar, Tomas Loeffelman (2), Lofan Fennema, and Brandon Bornkamp each scored points for the Jr. Blues. Both Cameron Sangster and Andre Vanlew found the back of the net for the Thunder. Between the pipes, Kevin Lake stopped 23 shots for St. Louis, while Ryan Kostelnik made 40 saves for Cincinnati.
Binghamton Junior Senators 12 vs. Skylands Kings 2 - A busy first period for the Senators gave them a heavy lead that the Kings just couldn't come back from, and the final score was 12-2 Binghamton. The game was a team effort for the Senators, with goals from eight different players, including Jimmy Petuch, Tyler Uravage, Ryan Reifler (2), Conor Landrigan (2), Jeremy Wilber, Dominik Bogdzuil (3), Lionel Landry, and Michael Hennekens. For the Kings, both goals were scored by Eric Vanderhoff. In net, Salvatore Lauretta stopped 38 out of 40 shots on the Senators net. Both Evan Barghout and Jared Apfelbaum got ice time for the Kings - Bargout stopped 31 shots, and Apfelbaum stopped 16.
North Iowa Bulls 4 vs. Peoria Mustangs 3 (OT) - Even though Peoria opened the game with 3 unanswered goals, 3 quick goals in the third period for the Bulls brought the game into OT. Ultimately, Connor Clemons scored the game winner for North Iowa, giving them a 4-3 (OT) win over Peoria. In addition to the game winner, Clemons also scored the tying goal for the Bulls. Mitch Parsons and Zach Hayes also each netted one. For the Mustangs, Austin Wisely, Zach Cox and Jordan Hillman found the back of the net. Daniel Swail made 15 saves for the Bulls, and Jaden Gardner stopped 30 shots on the Mustangs net.